How well do you know one of February's "SWHS Students of the Month," Grace Imondi?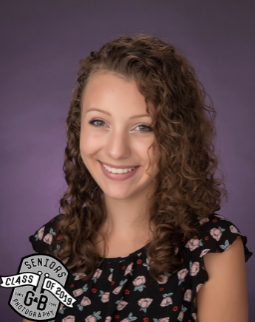 Jessica Polito
March 25, 2019
As one of two seniors named "SWHS Students of the Month" for February, Grace Imondi, remarked that "it makes me happy to be recognized for something." To award her this honor, Imondi was called down to the office a few weeks ago and given a bumper sticker to applaud her hard work. Though she doesn't know the exact reason she was nominated or chosen, Imondi's dedication to her life passions is evident in her daily activities.
Imondi is a focused student, but makes free time for her many extracurricular activities and volunteer organizations. At SWHS, she plays for the girl's tennis team and volunteers with the Interact club. As a South Windsor Rho Kappa Honor Society member, academics are an important part of her high school career. Not only is Imondi a dedicated student at SWHS, but she is also actively involved in the surrounding communities.
Closely connected to her future goals and aspirations, Imondi helps at the Veterans Affairs in Newington and volunteers as a grief counselor for children that have lost parents or siblings. She is looking to pursue psychology as her undergraduate and graduate focus in college so that she can become a psychologist. Imondi emphasized that this focus comes from wanting to "do the same thing I'm doing right now, working with children that are going through difficult times in their lives." Her interest in helping kids comes from her personal experiences. Imondi explained, that she wants "to keep helping people and spreading positivity for the rest of my life."
Imondi's kindness does not go unnoticed by fellow students at SWHS. One senior, Grace Helmke, commented that "she's just endlessly kind and accepting, inclusive in all settings, and constantly sensitive to others' feelings." Though the reason Imondi was nominated is unknown, Helmke and other students suspect that her kindness is the answer.