Dr. Raymond McCarthy: A Legend Retires
Dr. Raymond McCarthy is unfortunately leaving South Windsor High School this year and continuing on with his life outside of school. He will be missed because he is undoubtedly the best woodworking teacher and educator South Windsor High School has ever seen. 
Dr. Mac has been teaching for a fulfilling 47 years. Dr. Mac knew that he wanted to be a teacher since he was 7 years old, but woodworking wasn't his first choice. 
"I wanted to become a Phys. Ed. teacher as a freshman at UMASS Amherst, but I had to take anatomy/physiology and dissect a monkey just before lunch during my 3rd semester–I lost 20 pounds and dropped out of Phys Ed. I then transferred to CCSC for Industrial Arts," said Dr. Mac. 
His favorite thing about teaching has been seeing students grow and learn, Dr. Mac said. "Kids are amazing and interesting and try hard and bring me places I haven't been before."
The most important thing he's learned from teaching is, "Everyone has value, and the students who are  the least able to participate are the ones that need us most; you can't build your own game, you have to play the game of life as you know it. It's important to learn how to play it."
"
You can't build your own game, you have to play the game of life as you know it"
— Dr. McCarthy
Dr. Mac takes time to individually teach each and every one of his students. He shows them how to use the construction and woodworking machines along with all the tools. He explains their uses, and most importantly, how to be safe in the room. He talks about safety a lot like keeping hair, clothes, and jewelry out of harm's way. Safety goggles are always on while in the classroom to keep students safe. 
He cares a lot about the students and their learning. He wants students to learn and do a good job at absorbing the information. He takes time to explain and make sure students understand and know what they're doing. 
Dr. Mac is turning 70 in September, and he plans to travel the world and possibly get a job overseas teaching at a university. 
He will be missed here at South Windsor High School, but we undoubtedly wish him the best. Thank you, Dr. Mac.
Leave a Comment
About the Writer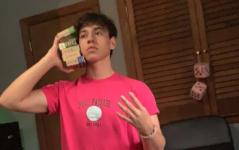 Anthony Sosa, Staff Writer
Anthony Sosa is a sophomore at SWHS. As a freshman, Sosa was part of the SWHS swim team. This year, he is planning to join the SWHS wrestling team. Sosa enjoys spending his free time with his friends....