Family Sweetheart Dance
Family Sweetheart Dance at Parks and Recs Center is a Hit Amongst Adults and Children alike.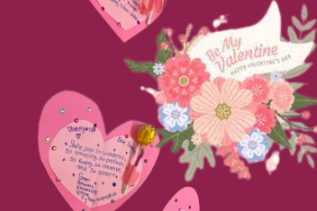 On February 10, the Valentine's Dance was held at the Wapping Parks and Recreation Facility Gymnasium on 91 Ayers Rhode from 7:00- 9:00 pm. Participants enjoyed light snacks, dancing, a photo booth, and more. Celebrating Valentine's Day volunteers through Interact assisted in creating Valentine's card making, games, and coloring sheets.
"The night was really relaxing and lighthearted," said Sambandan, an active volunteer in Interact. In the theme of family fun, the photo booth was a hit amongst parents with its various Valentine's Day-themed props including hats, hearts, and sunglasses.
The line went across the room with families waiting for their turn to get their own photo strip. Sambandan also stated, "Seeing the little kids all dressed up and spending time with their parents was really nice".
Moreover, dancing consisted of family-friendly hits played over a game of musical hearts, similar to the classic musical chairs. "It seemed to be very fun and enjoyable for young children to dance with their parents," explained Chandiramouli, another Interact volunteer. After a long week, kids and parents go to relax with snacks like cookies, juice, and chips at the refreshment table.
As well as being a night filled with fun and family memories, the games consisted of musical hearts in which two contestants would win school supplies if they landed on the two bigger hearts in the circle. Later on in the night, the children took to making heartfelt Valentine's day cards for their parents.
"So it was really nice that the fathers and daughters were dancing with each other. It was a great environment that made people want to dance. I like how there were other activities other than just dancing. I think that there was card-making. Overall, it was fun to be there," said attendee Tirunagari.
When the event was concluded, the Parks and Recs Department were even more motivated to host family events that brought the community together.