South Windsor V. Tolland Rivalry Game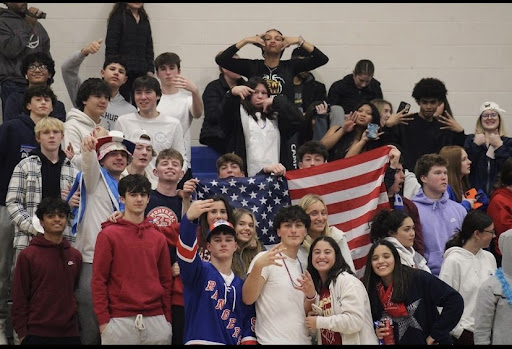 Thursday night at Tolland High School, the Bobcats and Eagles faced off in a rivalry basketball game. As expected when these two teams met, the crowds showed up, and the rowd came out. With the Bobcats coming into the game 2-10, while the Eagles came into the game 0-8, the Eagles looked to catch their first win over the Bobcats.
While the Eagles student section showed up following the spirit of Blackout, the SW Rowd Crowd took the trip to THS, following the spirit of the USA. Right from the start the energy from both student sections were alive.
After the end of the 1st quarter, the Bobcats trailed the Eagles by a score of 16-11. By halftime, the Bobcats had taken over the lead with a score of 32-28. With the first half of the game being back and forth, and ending with a close score, the "We can't hear you" chants from both student sections roared across the THS gymnasium.
During the third quarter of the game, the Eagles answered back, out-scoring the Bobcats 12-8, making it a 40-40 game heading into the 4th quarter. With both student sections on their feet, the game had come down to the wire in the 4th quarter, with neither team having a demanding lead over the other. During the 4th, Bobcats senior Ethan LaGuardia balled out for the Cats scoring 6 of his 12 points in the 4th quarter, including draining two free throws for the Bobcats with 6 seconds remaining of the game, seemingly sealing the game for the Bobcats. All 5 of the final points for the Cats in the final 50 seconds came from LaGuardia. Making Ethan, the respected Player of the Game.
Senior Hakim Montgomery put up 12 points, Senior Damian Ayala put up 11 points, and Junior London King dropped 10 points for the Bobcats.
While the Tolland Eagles did not get their first win of the season, THS Senior, Mitchell Enman dropped 18 points for the Eagles, and Sophomore Matthew Tybor put up 11 points for the Eagles.
With both teams battling it out till the end, the South Windsor Bobcats came out on top over the Tolland Eagles, leaving the Bobcats, with yet another Rivalry win under their belt.
Make sure to catch the Cats as they host Rocky Hill at 6:45 on Tuesday 1/31, at the South Windsor gymnasium.
As always, Roll Cats.
View Comments (1)
About the Writer
Ava Nicole Shasha, Sports Editor
Ava Nicole Shasha is a senior at SWHS. Shasha is a ball of energy. She thrives when it comes to the topic of sports. She is determined to become the face of women in the sports industry.  She is excited...