A Winter Day in the Hidden Gem of Hartford County
Tucked away in Hartford County sits the growing town of South Windsor, a town of 26,000 people. The hidden gem of a town has a lot to offer for some much needed winter fun. Here is a fully planned out, fun winter day in South Windsor, Connecticut.
When you wake up, take a drive over to grab a bite at the highest rated breakfast restaurant in South Windsor, The Red Cabin. Being the highest rated breakfast restaurant in South Windsor according to Google Review, you won't want to miss out on one of their amazing omelets like the Classic Irish, or their delicious pancakes such as the Big Will or their oatmeal pancakes.
After you wrap up your meal at The Red Cabin, take your kids or your friends and head on over to Porter's Hill. Make sure you grab your sled or tube before you head to the hill, because you won't want to miss out on the best sled hill in town. The massive hill with some large bumps and grooves will make a very fun day of sledding.
After you finish sledding, go warm up at Taste by Spellbound. Relax as you enjoy one of their delectable homemade hot chocolates, if you're feeling hungry while drinking your hot chocolate, try one of their delicious homemade treats, like cupcakes, macaroons, cookies, brownies, or cake. Their toasted marshmallow dulce macaroon is one of the best sweet-treats you'll ever eat.
Throw away your cup and head over to Puzzle Theory-Escape Room. Test your knowledge and detective skills while trying to escape their variety of rooms. Bring your friends to have a fun time getting locked together to try and escape the room through jump-scares and surprises.
When you either escape or fail to complete the escape room, finish out your day by eating dinner at Mill on the River. Being one of the highest rated restaurants in town, Mill on the River has much to offer. The fantastic menu is overshadowed by the gorgeous view of the real mill and river that sits below the restaurant. The meal will be well worth the price for the stunning views and amazing menu items, such as their tower of seafood or their famous Jagerschnitzel. 
Once you finish your dinner at the Mill on the River, you have successfully completed your wonderful Winter day in South Windsor, Connecticut! Maybe you'll come back soon to visit after you see how magnificent and how much this town has to offer.
Leave a Comment
About the Writer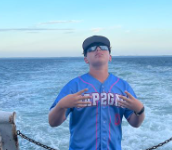 Eli Schwartzman, Social Media Manager
Eli Schwartzman is an energetic and fun loving freshman who loves sports. Schwartzman is very excited to write about sports such as football, baseball, and basketball this year. He will be covering a lot...