Where Will Aaron Judge Land?
Who will sign Judge for the next season?
Aaron Judge is arguably the biggest star in all of baseball. Judge just wrapped up his record breaking season, hitting 62 home runs to put him atop the throne as the American League single season home run king. The Yankees star is likely going to win the AL Most Valuable Player award, yet will the MVP be bringing his trophy back to the Bronx? Here are the top 6 teams with the best chance of landing Judge, and one reason why they could sign him.
New York Yankees:
The Yankees are the obvious betting favorite, being the team that drafted Judge and turned him into the megastar that he is today. The Yankees took a chance on Judge when they drafted him 32nd overall in the 2013 MLB draft. That pick played out more than beautifully. Judge has been the cornerstone of the Yankees franchise ever since his debut in 2016. In his time with the Yankees, Judge has hit 220 home runs and 497 RBI's, with a batting average of .284. Yankee Stadium has gone through very little changes since it was built in 2009, but they chose to add a section into the right field bleachers called the Judge's Chambers, made specifically for fans to cheer on Aaron Judge. The Yankees are the most likely team to sign Judge, but does Judge want to stay in the Bronx?
San Francisco Giants:
The Giants are second in betting odds to land the 30-year-old slugger. Judge was born in Linden, California, only two and a half hours east of San Francisco. Judge spent his entire childhood living near San Francisco, and then went on to attend Fresno State, remaining close to the Bay Area. Judge grew up a massive Giants fan and remained a fan of the team until he was drafted to the Yankees. The Giants will bank off their massive X-factor, being Judge's childhood favorite team. The Giants are missing that one big star to take their team back to the playoffs, and Judge could be their guy, but will the star take his talents to the Bay Area?
Los Angeles Dodgers:
Depending on where you look, the Dodgers are listed as second, third, or fourth in the betting odds to land Judge. The Dodgers are always a team to look out for in situations like this. There's a chance they won't re-sign Trea Turner, which will free up enough cap space to sign Judge. Adding a player like Judge to such a lethal lineup like the Dodgers would make them immediate favorites to win the World Series. Coming off a season with a franchise record 111 wins, it's hard to imagine the Dodgers could become even better, but adding Judge could make that possible. The Dodgers are tired of embarrassing playoff losses and want to bring home another title to pair with their championship in 2020, but will Judge be along for the ride?
New York Mets:
Two words, Steve Cohen. Cohen is the richest owner in the MLB, and as a lifelong Mets fan, he wants to see them win. Cohen knows what Mets fans want, a World Series ring. Mets fans are all too familiar with falling short of something, whether that is failing to make the playoffs, failing to win the division, or failing to make and win the World Series. Judge is the bat they need in their lineup to become a true world series contender. Cohen started his offseason spending early, locking down star closer Edwin Diaz for $102 million over the next five years. The Mets will continue to spend big this offseason, but the question remains, if Judge were to leave the Yankees, would he join the cross town rivals?
Boston Red Sox:
The Red Sox just had one of their worst seasons in awhile. Finishing in last place in the AL East, the Red Sox know they need to have a bounce back season. In 2021, Boston went on a Cinderella run, making it all the way to the American League Championship Series, falling to the Houston Astros in 6 games, but had a massive fall off in 2022, winning just 78 games. The Sox know that in order to have that bounce-back season, they need a star player in their lineup. Boston's trying to extend star third baseman Rafael Devers to a long term deal, and would like to pair him with Judge, but do the Red Sox have enough in their pitch to attract the Yankees star?
Texas Rangers:
The Rangers desperately need to win. The Rangers haven't made the playoffs since 2016, and haven't appeared in a World Series since their heartbreaking loss to the Cardinals in 2011. Texas made a splash last offseason, spending a combined $500 million to bring in Corey Seager and Marcus Semien, making it seem like they finally found their middle infield star duo for years to come. That played out horribly in year 1. Semien and Seager struggled all year and had significant down years. The Rangers know these stars have good chances of having massive bounce back years, but adding a player like Judge will make sure there's at least some much needed offensive production. Judge hit his AL record breaking 62nd home run in Globe Life Field, home of the Texas Rangers. Judge's most iconic moment happened in the Rangers home field, but will he want to continue his career in the place where he set history?
At the end of the day, whoever lands Aaron Judge will not only increase their lineup, but will increase their odds of winning the World Series. But the big question remains, where will the star outfielder be on opening day?
View Comments (1)
About the Writer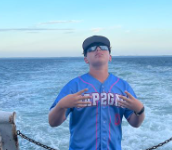 Eli Schwartzman, Staff Writer
Eli Schwartzman is an energetic and fun loving freshman who loves sports. Eli is very excited to write about sports such as football, baseball, and basketball this year. Eli will be covering a lot of teams and leagues, from the big leagues like the NFL, NBA, and MLB, to NCAA, and even high school sports such as teams here at SWHS.