Hoco 2022
Homecoming is Arriving Faster than Expected; Let's Dance, Laugh, and Have a Great Time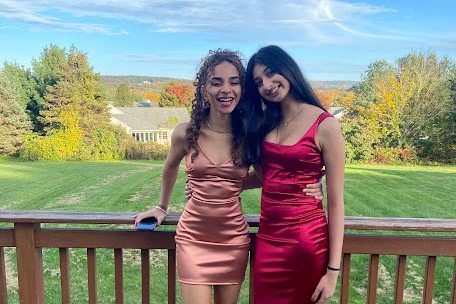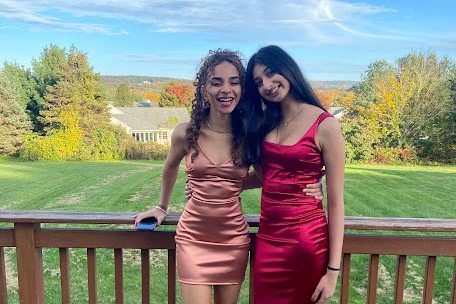 Sorry, there was an error loading this poll.

Shamyla Milner and Manaal Sheriff taking pictures before they go and have a great time at homecoming. 

Fall is here and it's about that time. Homecoming is a yearly tradition that many South Windsor students love. This event happens every year and provides an opportunity for students to get dressed up, and it gives people something to look forward to. 

This year, homecoming will take place on October 28th in the South Windsor High School cafeteria from 7pm-10pm.  Tickets are $15 and can be purchased in the lobby from Oct 17th through Oct 26th or until sold out. Homecoming is a dance where students get dressed up and dance. There is a DJ and he plays music all night long. People get together with their friends, take pictures, laugh, listen to music, and have a good time. 

Covid caused the school to put a hold on homecoming for 2020. Many students were disappointed but understood the importance of social distancing. Now that there are vaccines and the Covid rates have gone down, the annual tradition is back up and running again. 

Homecoming is run by South Windsor High School librarian, Ms. Tess McCool. Ms. McCool is in charge of the music, budget, and tickets. She makes sure that the students have a good time and everyone stays safe. She has the biggest role in planning this event. It will be very exciting to see what she does with it this year. "I'm excited that it's gonna go back to our traditional homecoming!¨ said McCool.

Students here have mixed feelings about homecoming and understandably. Many of the students are excited about the game. ¨It should be fun; the most important part is the game. If the game goes poorly, homecoming will too,¨ said senior, and member of the football team, Hakim Montgomery. The homecoming game sets the tone of the event.

The mental health of adolescents has recently been a huge issue, especially after the last few years. Everyone had to stay inside and try to stay busy. Now that everyone is back in school this should be an event to bring smiles, laughter, and joy!
Leave a Comment
About the Writer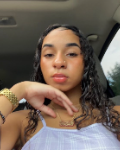 Shamyla Milner, Staff Writer
Shamyla Milner is a senior at South Windsor High School. She is very considerate and loves to talk about bettering society. She is most passionate about topics that are affecting people which falls in...
Amritha Suresh, Editor
Amritha Suresh is a kind and passionate Junior editor of the Bobcat Prowl. She's been writing her whole life, and typically likes to write political and opinion stories. She has been a writer on the Prowl...