Everything, Everywhere, All at Once is a Masterpiece, and Here's why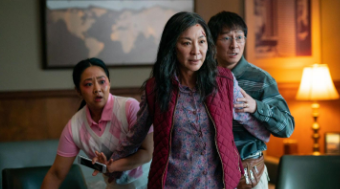 Lights, camera, bagels? The new movie hit Everything, Everywhere, All at Once recently took Hollywood by storm. The movie has proven itself a masterpiece in both storytelling and visual effects, as well as challenging certain aspects of the Hollywood movie industry.
This comedic and heartfelt motion picture follows the story of Chinese immigrant and laundromat owner Evelyn Wang (played by Michelle Yeoh), as she's pulled into an interdimensional conflict between dimension-hopping warriors and her daughter Joy (Stephanie Hsu), all during tax season (yes, that's an accurate summary).
In the directors' chairs sat director duo Daniel Kwan and Daniel Scheinert (better known collectively as "Daniels"), the duo that directed similar bizzare movies such as the 2016 film Swiss Army Man, which starred Daniel Radcliffe as a "flatulent corpse," according to a NY Times article.
After over 30 years since his last movie appearance, actor Ke Huy Quan finally made a return to the big-screen. Many may remember Quan for his fun and quirky roles in Indiana Jones and the Temple of Doom, and the 80s favorite Goonies, a CinemaBlend article cited. In Everything, Everywhere, Quan plays Evelyn's husband Waymond. He plays a multitude of different versions of Waymond, and can be seen fighting a horde of police officers with nothing more than a fanny-pack in the film.
One of the best performances in the film was that of actress Stephanie Hsu, who played both Evelyn's daughter Joy, and the interdimensional supervillain "Jobu Tupaki," a version of Joy from another universe that gains dimension hopping powers, fixed on putting all of the contents of the multiverse inside of an "everything" bagel (the whole concept is a giant pun).
When asked about her experience filming both characters in an interview with Vulture, Hsu replied, "For me, the body is kind of where I enter: mannerisms, physique. Joy is very downtrodden and in such despair, and honestly kind of like a rock in so many ways. And the physicality and the permission that we gave Jobu was that she can do anything. Even when we were rehearsing, we would be doing this scene and I would just all of a sudden throw a pencil. That was the vocabulary. They were on two polar extremes."
The budget Hollywood hit was also made with a visual effects team of no more than seven members, an unusual and impressive accomplishment. "[the directors] wanted to make sure they had a more intimate connection with the artists and were able to help on some of the stuff themselves. On [their 2016 film] Swiss Army Man, they worked with a bigger post house and didn't love the experience," visual effects artist Zak Stolz stated in an interview with Digital Trends.
An obviously different movie in the eyes of staff and critics, Everything, Everywhere did incredibly well for itself. It grossed almost $60 million since release and has scored a whopping 96% on Rotten Tomatoes, according to a Wikipedia article about the motion picture. "This film is so different than anything else out there. It's so absurd and chaotic yet touching and heartfelt at the same time. This instantly became my favorite movie ever." A moviegoer stated in a comment on the movie's official YouTube trailer.
Evidently, Everything, Everywhere, All at Once is the most unique, one of a kind, comedic, emotional, out-of pocket masterpiece in recent years. Clearly an instant classic, this movie has left people with one question. Will there more like it?