"A Love Letter to Journalism:" The Greatness of The French Dispatch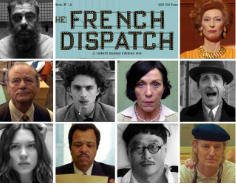 Would you turn an obsession into a full blown film? Well, that's exactly what Wes Anderson did. His newest film The French Dispatch is described as a "love letter to journalism," telling a story inspired by the history of The New Yorker during its glory years, a piece of media that Anderson has always appreciated.
This billet-doux takes place in a little French town called Ennui-sur-Blasé, where the fictionalized New Yorker called the French Dispatch is published. The film has a structure that is that of an issue of the magazine, where you literally step into the pages, "reading" three separate stories. 
The first magazine story is that of Moses Rosenthaler, a genius artist serving a life sentence for homicide, whose art becomes famous whilst he's imprisoned. This section of the film also shares Rosenthaler's love affair with Simone, his muse and prison guard. The second story is a whimsical pantomime of the 1968 student protests in Paris, with Timothée Chalamet as a moody revolutionary by the name of Zeffirelli. (This section is clearly inspired by Mavis Gallant's 1968 coverage of the protests for The New Yorker, "The Events in May: A Paris Notebook".) The final story follows writer Roebuck Wright as he profiles legendary chef Nescaffier, who works his magic in the police department kitchen. It follows an intense tale of kidnapping and deception, one which ends only with the aid of Nescaffier's culinary talent.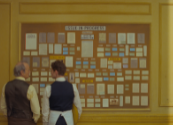 Each story is told with its own style, with Anderson using many cinematic techniques to create an experience that is that of reading the issue. Using animation, graphics, still lifes, visual puns, and gags, all threaded together with Alex Desplat's wonderful score, Anderson creates a story that is hard to follow yet visually stunning and satisfying. 
Matt Lynch says about the film, "One exquisite, hilarious, melancholy tableau after another." 
"I feel like I just ate a perfectly cooked meal by one of my favorite chefs. Just the right number of courses. Delicious," shares Patrick Willems. 
Letterboxd user Iana says, "A delectable tribute to journalism. Packs so many intricate and eccentric details into the milieu of ennui-sur-blasé that it's almost overwhelming (not in a bad way). It's a Wes Anderson film – of course it's fantastic."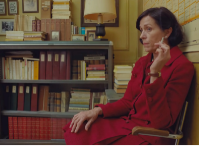 The French Dispatch doesn't just focus on the lives of the writers but rather celebrates the creative processes of writing and creating a story, focusing on the work of each writer. Anderson dives into the passion and dedication behind each story we read, how writers and journalists seek the real experiences to make their work the best it could possibly be. It is a visually stunning and elegant homage to journalism, French culture, and The New Yorker magazine, keeping you on the edge of your seat with every shot. With it's great cast and beautiful style, this 2021 film is definitely worth a watch and a nice breath of fresh air for cinema.
Declaimer:  This movie is rated R: (Restricted, Children Under 17 Require Accompanying Parent or Adult Guardian.) This rating means the film contains adult material such as adult activity, harsh language, intense graphic violence, drug abuse and nudity.