From Alaska to Boston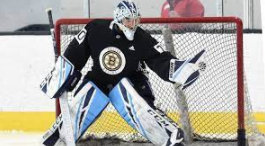 From Alaskan born, to Colorado, to Maine, to Rhode Island, and now to Boston Massachusetts, Bruins goalie Jeremy Swayman has made quite a journey to make his dream a reality.
Jeremy Swayman was born in Anchorage, Alaska on November 24th, 1998. From an early age hockey was ingrained in his head, as in Alaska, hockey was a forefront in his childhood. In Alaska, hockey was a required sport growing up, according to Jeremy, you would see kids ripping around the ice at recess. That's one of the areas he developed his passion for the game.
The other place where he developed his passion for the game was at University of Alaska-Anchorage games where he and his dad had season tickets. While his dad would watch the game Jeremy was infatuated with the men in the blue paint, we would watch and study them perched on his dad's lap watching them play from right behind the net, the goalies vantage of the game.
That infatuation had made him want to play goalie and only goalie, suiting up in the goal at age four to five and never look back, he would regularly suit up in games in which kids were two to three years older than him and he would dominate in those games.
Swayman was one of the rare cases where he stayed in Alaska longer, usually players try to get out of Alaska sooner than he did to try and get more exposure.
"Staying in Alaska instead of going south earlier he was able to hone his skills" said Ben Guite, a recruiter and coach for UMaine.
He ended up going to the lower 48 to Colorado after playing a year in the Alaska High School system where he put up monster numbers for his High School, South Anchorage High, registering a nearly .950 (he saved about 95% of shots he faced) over 26 games. The next year he would then play for the Pikes Peak Miners and continue to put up crazy numbers including a .940 over 18 games.
Those performances would continue as he aged and got into better and better leagues as he would go into the USHL and play extremely well, in that USHL year he was relatively undiscovered when he got there and was considered one of the hot new prospects on the market, when he went to the USHL showcase that's when UMaine truly saw him for the first time. 
"After the first period we looked at each other and said yeah that's our guy", Guite said, regarding Swayman' recruitment to UMaine
In his three years at UMaine he would regularly carry the team on his back, backstopping them to wins against high competition in Hockey East such as teams like Boston College, Boston University, and Providence College. 
In his Junior season he went takeover mode and would carry UMaine on his back everygame, regularly facing over 30 shots and only letting in one or two goals everygame, that year he would win the Mike Richter award for the best goaltender in the country.
"We knew he was going to win the Richter award very early in his junior season, when he had a .940 by Christmas and was carrying the team on his shoulders," Guite said.
Swayman finished his junior season with a .939 or saving 93.9% of his shots and yes, he won the Mike Richter award as the best goaltender in D1 hockey, as well as a Hobey Baker finalist which is College Hockey's version of the Hiesman trophy, he was the Hockey East player and goaltender of the year.
He would carry his momentum into his next year, he would start in the AHL but be quickly moved to the NHL because of high play. He would be moved to the NHL and absolutely dominate in his games up there, in the ten games he played he would register a .945 and make one appearance in the playoffs.
 This year he's continued his stellar play backstopping the Bruins and taking over the starting job. His goalie coach from UMaine, helped to keep him grounded and working on his craft every single day, "I think he had a lot of the tools needed to play at the next level. I just tried to help him be a good teammate and work on pushing to be the best every day.  The process was to manage every day. Not the future".