Locally Based Charity's Event Helps Thousands of Women in Need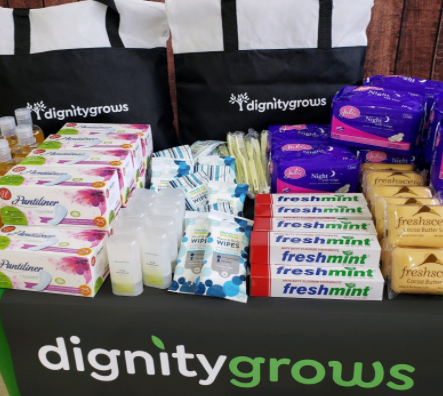 In their annual Giving Thanks event, locally based charity Dignity Grows provided over 3,000 local women health and hygiene products this past Sunday. 
Dignity Grows, founded in 2019 by Jessica Zachs, helps to provide hygiene products to women who are impacted by a type of hygiene poverty called period poverty. 
"Period poverty and menstrual inequity were never on my radar until I watched a wonderful documentary, Period. End of Sentence." Jessica Zachs, CEO of Dignity Grows wrote in an email, "After watching I headed straight to the computer to see if this was a problem in the US. I was disgusted to quickly learn that pre-COVID, 20% of American women experienced period poverty; that translates into missed school, missed work and wages and the interruption of one's daily life schedule. Something in me was drawn to help lessen the impact for individuals who would be greatly helped by having access to products most of us take for granted."
Period poverty is the inability to afford menstrual or feminine hygiene products when needed. Almost 20% of American women suffered from this pre-Covid, meaning the number of individuals has likely increased well above that pre-Covid figure. 
In a study by the U.S. government's Welfareinfo, 30.5% of Hartford residents live in poverty, impacting roughly 1 in 3.3 residents.
Less than ten miles from the Prowl's headquarters, a large number of individuals suffer from poverty, which can translate into period poverty for many of the impoverished women. Nothing more than a river separates the town of South Windsor from Hartford, yet the difference is utterly shocking. An idea that would barely cross the mind of an average South Windsor resident is one that impacts a large portion of Hartford residents.
In the past two and a half years, "Dignity Grows has distributed almost 20,000 Dignity Grows Totes in the Greater Hartford area," wrote Zachs in an interview with the Prowl, "Even though the totes are given to an individual, they actually help other members in the home so the impact reach is greater than we know!"
Dignity Grows sends packages of hygiene products to individuals in need inside zippered tote bags. Enclosed in each tote bag is: Soap, Shampoo, Deodorant, Toothbrush, Toothpaste, Hand Wipes, and two types of Menstrual Hygiene Necessities. Each tote bag only costs $10.00 to create, according to Zachs, and is distributed throughout the Hartford area by other non-profit organization partners. 
The Dignity Grows Giving Thanks event on November 28th saw more than 145 volunteers of all ages. Additionally, on the following Tuesday, students at the Solomon Schechter Day School, where the Giving Thanks event took place, packed another 500 tote bags. By the 4th of December, more than 2,800 of the tote bags have been given to individuals in need. Volunteers at the event ranged in age from young children to senior citizens, and both men and women came to make a difference. Multiple South Windsor residents were among the volunteers at the Giving Thanks event and at past Dignity Grows events. 
"The response to Dignity Grows has been incredible and in all honesty, heartwarming," wrote Zachs, when asked about the response to Dignity Grows, "We have engaged hundreds of volunteers and most of them return for a second, third and even fourth pack. In October 2020 we launched as a national organization and now there are about 40 national chapters with more ready to launch their first pack! Most incredible to us is the response of teen activists and advocates who have taken on the mission to help alleviate the issue."
Expanding out of Hartford County Connecticut, Dignity Grows also has chapters in cities such as: Portland Oregon, Philadelphia Pennsylvania, Louisville Kentucky, Phoenix Arizona, Denver Colorado, Austin Texas, Long Beach California, Wilmington Delaware, Baltimore Maryland, and many more throughout the country according to the Dignity Grows Website. The issue of period poverty is a national concern, the need for chapters across the country is a necessity. 
Beginning in West Hartford, Connecticut, "Local impact has been amazing, from the volunteer side, the educational side, the simple way to provide help," Zachs wrote, "We have started a conversation in Connecticut and that conversation is spreading."