Why Cincinnati deserves to be a top four team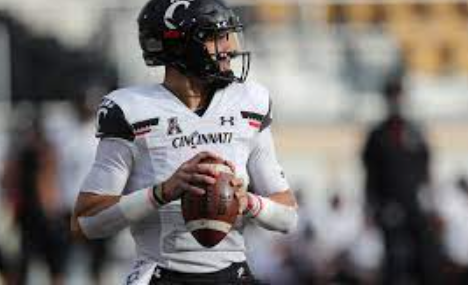 Cincinnati was yet again robbed last Tuesday as they were ranked fifth in the first College Football Playoff poll. Cincinnati has shown again and again why they deserve to be a top four team, or why other teams have shown they don't.
Cincinnati has the appropriate stats for a team that should be ranked inside the top four, they are undefeated and have a road win against power five Indiana, and a road win against top ten Notre Dame. The games that they have played back them up winning by crazy numbers. Cincinnati is behind Alabama, Oregon, and Ohio State all with one loss. Alabama with one to a now ranked Texas A&M, Oregon with one to unranked Stanford, and Ohio State's one loss came to Oregon. 
The day of the first rankings release they invited Cincinnati Quarterback Desmond Ridder to the show, and he declined knowing that they would get disrespected, and they did.
Cincinnati coach Luke Fickell had this to say "Now, can Georgia get in with one loss? We've seen it. Alabama? Darn right. Ohio State? We've already seen it," he said "It is what it is. I think those teams do get the benefit because of what they've done. And I'm not saying they don't deserve it, because they do." We've already seen it this year, Alabama, Ohio State, and Oregon all lost, and Alabama and Ohio State lost to unranked teams at the time. 
Cincinnati has not looked great these past few weeks, they played a close game with now 3-6 Tulsa this past week only beating them by eight. This is what happens to great teams, they start to get comfortable and start squeaking by teams because they know they will win before the game even starts.
There's always reasons the committee has left out a group of five teams from the playoff, it happened to UCF and now it's happening to Cincinnati, even with their wins against top ten Notre Dame and power five Indiana, their strength of schedule is still 92nd out of 130 in the country. That's one of the main reasons they were left out of the playoffs. CFP Chairman Gary Barta touched on this "The committee has great respect for Cincy. The win at Notre Dame was a really impressive win," Barta said. "When you look at who they've played after that, who else did they beat?" As much as you don't want to admit it, this is true. The Indiana win doesn't really mean much considering they've been extremely lackluster this year as their only premier win is Notre Dame. They have a chance to get a statement win against SMU this weekend and should be playing with a chip on their shoulder. After another lackluster showing against South Florida, Cincinnati needs a big win against a good opponent. Joey Galloway said it best "Cincinnati is disrespected."