St.Vincent Is Home!
Imagine it's 1974, New York, Lower-east side. All around a bohemian paradise of artists, gender-benders, and individuals with the gritty sensibilities that make an obtuse society sneer. Perhaps one does not even need to think when St. Vincent's new album Daddy's Home is the exceptional gateway drug into a robust, psychedelic, and oddly warm palette of musty nostalgia. 
Annie Clarke -better known as St.Vincent- a renowned art-pop provocateur, guitarist and conceptual creative has been making strides in the music industry ever since her sarcastic drawl of a debut album "Marry Me" came out to much critical acclaim in 2007. Over the past decade, St.Vincent has been building up to a distinct sound of snarling guitars that sound as if they have been played with a screwdriver wedged between the strings, metallic flourishes of jittering percussion, always topped with ironic and cynical songwriting that gorgeously displayed Clarke's lyricism chops. However, with the unveiling of the Daddy's Home sonic aesthetic, many have noticed a distinct shift, especially coming off the backs of her angular and cutting 2017 record "MASSEDUCTION". Rob Harvilla, a journalist for The Ringer had shared a similar feeling, "Compared to the last St. Vincent record, 2017's stiff and subversive robo-funk jaunt Masseduction, there is a refreshing analog chillness to this new one, a welcome sense of groggy humans making groggier music in a wood-paneled room together."
When discussing the themes of groggy humans making even groggier music, there is none such better example than the first two tracks off of Daddy's Home. "Pay Your Way In Pain", St. Vincent's lead single that dropped a few months ago, begins the album and continues to withhold the same ferocious sludging forward and romantic melodrama that kick-started her new sound on the song's release. The track reveals what Clarke describes as, "our society that oftentimes asks you to choose between dignity and survival." Following what seems to be a character waking up after a night of bad choices "Pay Your Way In Pain", describes an entirely bad day of being rejected at the bank for their currently poor complexion and mother's shielding their children's eyes from our character's heels at the park. Adorned with retro stylings but still, an endlessly relatable sense of displacement several can find themselves within. "Down and Out Downtown", our soaring follow up to "Pay Your Way In Pain", continues the sentiment as Clarke describes, "We've all been that person who is wearing last night's heels at eight in the morning on the train, processing: 'Oh, where have we been? What did I just do?' You're groggy, you're sort of trying to avoid the knowing looks from other people… That's her; I've been her."
Listening to Daddy's Home is that warm hug from an old friend, it is that smell slowly creaking about that just brings you back to somewhere so specific that although entirely personal; the feeling is endlessly relatable. One can surmise much of the phenomena can be credited to St. Vincent's own understanding of nostalgia and feeling seen by an artist as she routinely honors her heroes on Daddy's Home. Whether it be the sonic glaze that screams Bowie and Prince or directly within lyrics of tracks like, "The Melting of the Sun." A song where Clarke tributes women who have dedicated careers to watching the 'sun' we never thought could ever burn melt right before us. Including trailblazers like Nina Simone and her civil rights achievements or Tori Amos' transparency on the terrors of sexual assault.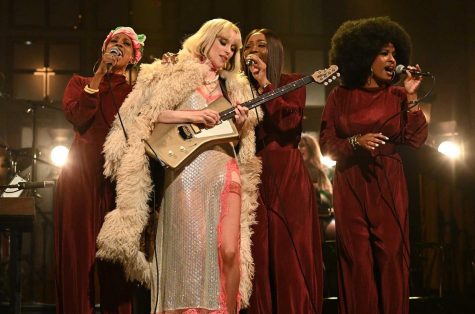 One of the most fascinating portions of any St.Vincent album cycle is the markings of her true theatrical and performative ambitions. Annie Clarke over her span of albums has made massive shifts in aesthetic and high functioning conceptual characters to perform through. Coming to know the complexities of personas like her pill-ridden and hollow housewife that shot her up to the mainstream back in 2011 on her album "Strange Mercy"; to what she described as the near-future cult leader that formed Clarke's grammy-winning self-titled record. Vincent's Daddy's Home emerges as an entirely different beast. Changing her hair to a layered dirty blonde bob and adorning herself with fabrics that range from cool and vintage to a drowsy campy excess. The style of this album indeed suggests that aforementioned 70's downtown queen, or some larger-than-life velvet underground idol. To sidenote fashion references to trans legends like "Candy Darling" (who also has a song referring to her namesake on the back end of Daddy's Home) and other historic queer figures have been quite the endearing addition to her catalog of uplifting LGBTQ history.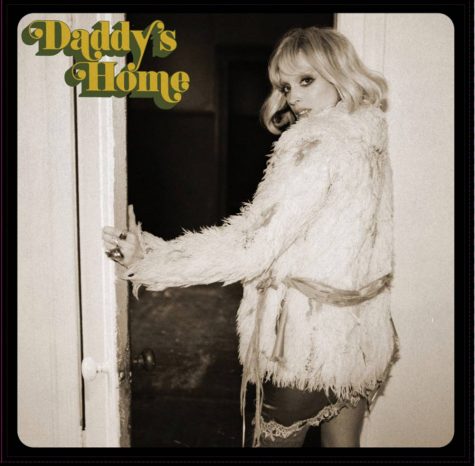 But do not be dismayed by the size of St.Vincent's artistic endeavors. This album is still a fantastic collection of deeply personal moments suggestive of Clarke's emotional strife when writing the record. For instance, within the title and its respective track itself Daddy's Home, Annie Clarke notates her complications that emerged from her father returning from being imprisoned back in 2019 for his role in a $43m stock manipulation scheme. Relaying lyrics such as, "I signed autographs in the visitation room" or, "Yeah you did some time, well I did some time too." However, by the conclusive notes of Daddy's Home, St. Vincent surmises, "I'm Daddy, I'm Daddy now." Proving a triumphant statement of how much success the oddball artist has been able to obtain
In conclusion, Daddy's Home proves to be another massive smash for St.Vincent. Her consistency as an indie darling was close to unparalleled over the 2010s, and it seems as though she wishes to continue the streak. As with all its splendor and excess, Daddy's Home might just be Annie Clarke's most personal body of work to date.