Admired Comedian John Mulaney On a Path To Sobriety Following 60 Days In Rehab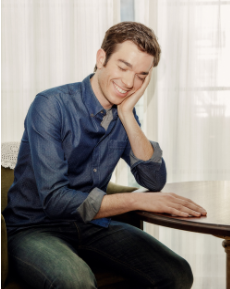 Known for bringing laughter to many through his uniquely funny sketches and popular stand-up specials, beloved comedian John Mulaney is now on a journey to sobriety following a 60 day stay at a Pennsylvania rehab facility after checking in late last year for alcohol and cocaine abuse. 
In past Netflix specials Mulaney has disclosed his past struggles with drugs and alcohol, claiming in a September 2019 interview with Esquire that his drinking problems started in his teens when he first started consuming alcohol at age 13. His drinking eventually influenced his experimentation with drugs. "I never liked smoking pot. Then I tried cocaine, and I loved it," he shared in that interview. 
The former SNL writer managed to independently give up cocaine in August 2005, going on to stop his drinking habits the following month. He came to the conclusion after a long binge at age 23, saying, "I went on a bender that weekend that was just, like, fading in and out of a movie," Mulaney said. "It was just crazy… I was like, You're f***ing out of control. And I thought to myself, I don't like this guy anymore. I'm not rooting for him." 
During the coronavirus lockdown Mulaney claims that he struggled to keep busy at home, with it taking a dramatic toll on his mental health and wellbeing. He even went on to join the writing staff for Late Night With Seth Meyers in an attempt to keep himself grounded. During an interview on Jimmy Kimmel Live! Mulaney states how he thrives with order, sharing, "One, I like having a boss, I like having assignments to do. When I'm in charge of something, it's not so much the best thing. I wanted to have a boss and I wanted to have structure. Because my psychiatrist, who knows me well, said, 'Without external structure, I don't have confidence in you thriving.'" 
The isolation caused him to cave back into his old habits, once again abusing drugs and alcohol. The decision for him to seek help and enter rehab was encouraged by Mulaney's family, including his wife Annamarie Tendler. "It was a relief to his wife and family that he checked in," a source tells Us. "It was John's decision. Plain and simple, John had too much downtime. He had too much time in his own head." 
After news spread that he had checked into rehab, the Big Mouth star was met with abundant support from fans and colleagues all over social media. 
A source told PEOPLE that Mulaney "is committed to getting better," and that he, "relies on the same small circle of friends he's had for 20 years."
This unforeseen news serves to highlight that we are all collectively going through the trauma of this pandemic together and that it's okay to be struggling or fighting demons. It's important to talk to others when we feel these demons may be winning or reaching out to friends and family to ask how they're doing, because we never know what silent or personal battles someone may be fighting. One text can make all the difference.