Congressmen recall Capitol Hill Siege as fallout hits America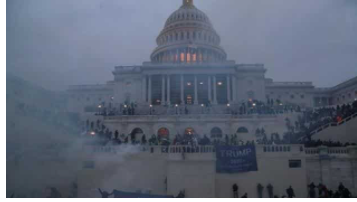 ¨The Capitol has fallen.¨
That haunting message was sent by a Capitol Hill officer on Wednesday, January 6th, amidst the Riots. What started as a rowdy protest that seemed normal in DC became a harrowing scar in American history. After a crowd of Pro-Trump rioters shattered doors and glass to enter the Capitol, a crime not committed since the British did in 1814, the entire building was sent into lockdown. The House and Senate, who were both in session to certify President-Elect Joe Biden`s victory, were told to put on their gas masks and be ready to head for cover.
 Eric Swalwell of California recalls his fellow Congressman Ruben Gallego shielding journalists and other members of the press and assisting other representatives. Gallego, a Marine veteran, used his training to help people put on gas masks to prevent the effects of tear gas, and taught them not to hyperventilate. 
Similarly, Colorado Democrat Jason Crow, an Army veteran, kept people away from barricades and told representatives to take off their lapel pins that identify house members. He also helped officers by staying on the House floor with them for 6 hours, according to Representative Susan Wild. 
After Biden`s 4 A.M. certification, Senate Chaplain Barry Black and former Navy rear admiral as he closed the infamous day in prayer. "We deplore the desecration of the United States Capitol building, the shedding of innocent blood, the loss of life, and the quagmire of dysfunction that threaten our democracy. These tragedies have reminded us that words matter and that the power of life and death is in the tongue." 
One week later, Congress has just impeached President Donald J. Trump for the second time, making him the first president to be impeached. The articles accused Trump of Incitement of Insurrection for his role in creating the protest-turned-riot with tweets and a rally the following months after the election. This was the most bipartisan impeachment in American history, above the impeachment of President Clinton, with 10 GOP Congressmen, including Liz Cheney, the third highest-ranking Republican in Congress, breaking ranks to vote to impeach. With less than a week left in his term, it is unknown what President Trump may do, with reports of a shrinking inner circle, and more seclusion than ever.