Extraordinary Student Organizes Drive-By Birthday Parade for Friend During Covid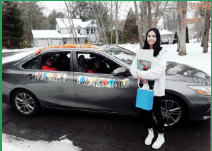 During this tumultuous year, many felt depressed and useless while being stuck indoors with nothing to do. With the sudden and rapid halt to our everyday lives we have missed out on important events, fun gatherings, and big milestones. Despite these unfortunate circumstances, many compassionate individuals still strived to bring joy to others.
With the inability to plan big gatherings, many birthdays were spent at home with family, and even some cake for those who were lucky. However, South Windsor High School junior Zoë Clayton made it her mission to make her friend Sarita Scully's 16th birthday a little special. 
With the help of Scully's mother, Zoë was able to plan a big driveby birthday parade for Scully, equipped with music, decorations, gifts, and all her friends that she has been missing since the pandemic began. "It was important to me because I was planning it for her mother. I think I made her birthday extra special by inviting all different types of friends. I loved her reaction." Clayton said. 
The unique setting of this unprecedented year has definitely made these driveby birthday parades more popular and frequent, and an easy way to remind those who are celebrating another year on this planet that they are still loved and appreciated, even during a time where it feels like the world is crumbling. 
"It made my birthday extra special because I normally don't like celebrating my birthday, but this time it was completely different," Scully shared. "It was definitely memorable because it was my 16th, so it's supposed to be a special birthday, but obviously with the pandemic you can't celebrate the normal way so I'll definitely remember the car parade forever."
It's a sigh of relief to see so many teenagers and young adults celebrating each other and serves as a reminder that there is still infinite kindness in this world. "It reminded me that there are people who care about me, which was a reminder that I needed because it gets lonely in quarantine and you forget what it's like to be around your friends," Scully said. 
As we say goodbye to 2020 and hello to 2021, and as the COVID vaccine is seeing serious progression, we hope for a brighter future where we can finally embrace one another in person and celebrate birthdays by all singing happy birthday together.