'Juno' Actor Elliot Page Comes Out as Transgender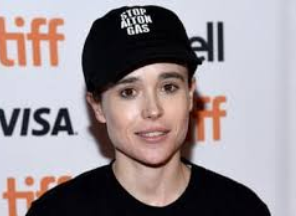 On the first of December, actor Elliot Page released a statement on his personal Twitter coming out as transgender. He started off his 4 paragraph long statement by saying, "Hi friends, I want to share with you that I am trans, my pronouns are he/they, and my name is Elliot."
The 'Juno' star went on to express his gratitude for finally arriving at this place in his life, and for being comfortable enough to finally start accepting his true self. "I can't begin to express how remarkable it feels to finally love who I am enough to pursue my authentic self," Page said. "And the more I hold myself close and fully embrace who I am, the more I dream, the more my heart grows, and the more I thrive."
Multiple actors and celebrities have come out to show their love and support for Page. Kelly Bush Novak, a friend of Elliot who has known him since 2006, tweeted, "My heart is full today as I bear witness to his life-affirming announcement. I have such profound love and respect for him, never more than at this moment."
"I've been a fan of Elliot's for a very long time and am excited to see him continue his fantastic work in the years to come," actor and comedian Kumail Nanjiani tweeted at Page. 
Despite Page communicating his joy to his fans, he reiterates that his journey is still ongoing and asks for patience as he continues to grow and accept his identity. "My joy is real, but it is also fragile. The truth is, despite feeling profoundly happy right now and knowing how much privilege I carry, I am also scared." 
The actor, known for his role as Vanya on The Umbrella Academy, shifts the focus of his statement to talking about trans discrimination and the fear that the trans community faces day to day through violence and oppression. Page states that "jokes" made about the trans community are hurtful and calls for political leaders to protect trans people, rather than neglect them.
Page then states that despite the discrimination he faces, he loves being trans and he loves being queer. 
"To all trans people who deal with harassment, self-loathing, abuse and the threat of violence everyday: I see you, I love you and I will do everything I can to change this world for the better," he shares.