The 2020 NHL Draft- Who Are The Top Three?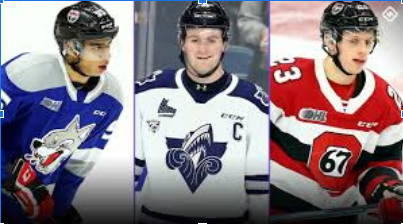 Last week the NHL held the 58th annual draft in a new format due to current circumstances and quite possibly changed the landscape of the NHL. 
At this year's draft the New York Rangers had the number one pick after winning the draft lottery. It was a new format as after the new play-in series was introduced the lottery had taken place after because the losers of those play in rounds would get entered into the draft lottery. SInce the Rangers got eliminated they eventually were rewarded that important number one pick. The number one pick this year was no surprise as forward Alexis Lafrenire got drafted by the Rangers to kick off the draft. Lafreniere, from Canada had been playing in the QMJHL(Quebec Major Junior Hockey League). In his last season he tallied 35 goals and 77 assists for a total of 112 points in 52 games. Newsday.com reported what Lafrenire had to say on being drafted first overall, "The New York Rangers is a great organization and, for me, I'm really, really honored to join them, and when I heard my name, it was — we've been waiting for a long time. So it was something really special for me and for my family. We're all really excited.'' It's evident that Lafrenire is ready to start the next chapter in his young career. On Monday he officially signed his entry level contract for three years and will wear number 13 in the upcoming season. 
Along with the Rangers, the Las Angeles Kings had a good draft as well. As they drafted center Quinton Byfield. Byfield is 18 years old and was ranked second overall by the NHL central scouting as a North American skater. With being drafted second, Byfeild surpasses Seth Jones and Evander Kane as the highest selected black player in history. Current GM and Vice President for the Kings had this to say about drafting the young forward, "Quinton is an exceptional young man and talented player with a very bright future, 'We're proud to be adding him to our organization and look forward to the next stages of his development and a promising career in LA." In his previous season in the OHL, (Ontario Hockey League) Byfield tallied 32 goals and 50 assists for 82 points in 45 games. Byfield is looking forward to being a part of the Kings bright future.
With the third pick the Ottawa Senators obtained from the first day of the draft lottery, they selected forward Tim Stutzle. Stutzle, a native from Viersen, Germany played in 41 of the 52 regular season games in what was his first year playing for the top league. He registered 7 goals and 27 assists for 34 points  in those 41 games. Stutzle was the youngest player in the league, Deutsche Eishockey Liga(DEL) while being the seventh highest scoring player on his team the Mannheim Eagles. Senators owner Eugene Melnyk was thrilled with his decision, "Tim's acquisition represents yet another core piece in our quest to build momentum towards icing a consistent, elite-level team." The owner spoke highly of Stutzle soon after selection. Among the European players that were in the draft Stuzle was ranked number one. 
All three of these teams were happy to get these selections as they believe it can be a new spark for their perspective teams futures. All three of these players will look to make an impact in the upcoming season which the start date has yet to be determined.