ESPN's "Project 11" Reminds The Sports World How Alex Smith Should Never Be Underestimated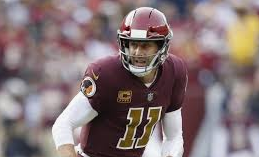 With nearly all sports around the world put on hold due to the COVID-19 pandemic, fans across the world are scrambling for new material to watch in these unnatural times. Most people have been somewhat relieved of their need for new sports content with the NFL draft back in late April, and now the ESPN documentary "The Last Dance", showing never seen before films of Michael Jordan and the Chicago Bulls' 1997-98 season. But one piece of new material is not getting the attention that it deserves, which isn't unusual given the player it is focused on. 
Last Friday, ESPN released another documentary focused around the life and career of NFL quarterback, Alex Smith, who suffered one the worst injuries the sports world has ever seen. The documentary comes as a special edition of E:60, who has filmed Smith's entire recovery and rehab process since he injured his right leg on November 18, 2018. With Smith's story not as much in the spotlight, this project reveals just how tough and motivating Alex Smith is a person, a competitor, and a father. 
For anyone who hasn't seen the film, and wishes too, I recommend to stop reading now in fear of spoilers. I won't reveal too much, but will discuss the main parts of the hour long documentary. 
After Smith broke his right leg in a game against the Houston Texans, Smith was immediately rushed to a nearby trauma center to repair his leg. The surgery was successful, but in less than a week, Smith's leg was infected with four kinds of bacteria, including one that is considered "flesh-eating", according to the doctors featured in the special. After turning the majority of his right leg black, Smith's doctors were forced into a situation where they were not only trying to save his leg, but also his life. 
After 17 surgeries and over two months in the hospital, Smith was finally released from the hospital and allowed to return home. Now over two years from the injury, Smith is training and rehabbing his leg for an attempt to make an NFL return. 
"Football might not be out of the question," Smith says at one point. "Can I go play quarterback again? Can I push it that far?"
Alex Smith currently is still under contract with the Washington Redskins, so is it really possible he could make a return to the field? Smith has made several posts to his social media accounts that show just how much progress he has made. Whether Smith makes the comeback or not, his story is truly inspiring to not only just athletes, but to all people to persevere in toughest of times.