How Junior, Meghna Mazumdar Founded the Golf Team at SWHS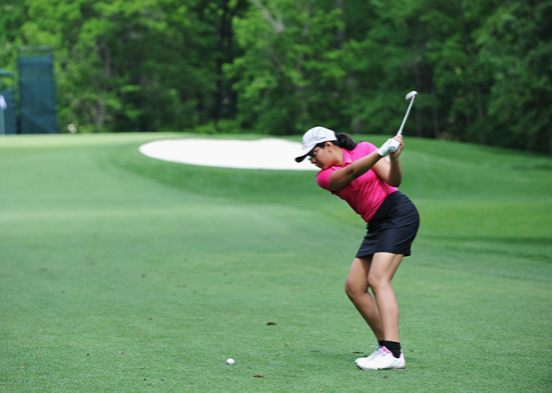 SWHS Junior Meghna Mazumdar started the first ever girls Varsity Golf Team in just her eighth grade year, 2016. When she was looking for extracurriculars as her last year of middle school came to a close, Mazumdar noticed that while there had been a boys Golf team since 1970, but there was no girl's team. So, she took it upon herself to reach out to the Golf team coach at the time and see if anything could be done. Coach Gray, the boy's golf team coach, informed Mazdumar that while there was no formal girl's team, there was a golf club. Or as an alternative, he offered her to try out for the boy's team. Instead of settling, Mazdumar went above and beyond to create a new sports team at the High School.  She had to raise 30,000 dollars for funding for the club, and initially when it first started, there were nine members. Since then, the number has grown to eleven.
To do this, she first planned why she wanted to make the club. She said that she needed "a strong justification as to why the team would be beneficial to the town as a whole." Her reason was because she saw the creation of the team as a great way to advocate for equality in the world of sports. She also wanted to create a space where girls interested in golf, like herself, could learn, grow, and compete within the sport. From there, she suggested going to the principal and gaining his support for the club.
Golf has always been a part of Mazdumar's life. Since she was an infant, she's been on the golf course, and for over ten years she's been playing. Her love for golf has grown over the years, but continues to grow as she plays with the SWHS team. She explained that she "gained some of [her] closest friends out of this since [her and her teammates] spent so much time together and became great friends!" 
Other than being so close with the team, Mazdumar's favorite part about golf is the learning experiences it continues to give her. "It's the only sport where there is no umpire or referee," she says, "You have to make all the decisions yourself, even if that means calling a penalty on yourself. It teaches you honesty and integrity." She doesn't, however, like how mentally taxing it is to stay focused for such a long period of time. 
Even off of the course, Mazdumar works hard. With a 4.0 gpa and as a member of the National Honors Society at the High School, she sure is showing off some serious brain power. Aside from academics, Mazdumar performs with the school's show choir, Choral Spectrum, and is "really enjoying" the competition season so far. She also enjoys playing the piano. Another impressive hobby that Mazdumar takes pride in is her involvement with the Stock Market. As an investor since she was just eleven years old, she certainly knows her way around the market. In fact, she feels so strongly about money management that she started  class in South Windsor for kids aged from five to ten years old on how to save and budget money. 
Mazdumar's skill set guarantees that she certainly will have no trouble in whatever path she chooses in her future, but for now, Mazdumar's big focus is golf. With a good mindset and determination, her path to success is shorter than it seems.