Five Sentenced to Death for Murder of Jamal Khashoggi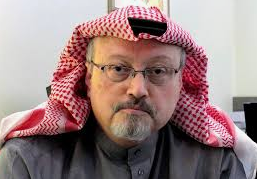 Over Winter Break, it was revealed via the Saudi Arabian government that five people would be sentenced to death over the controversial murder of Saudi journalist Jamal Khashoggi. This is big news, especially considering that this case is nearly a year and a half in the making. On top of the five sentenced to death, three others are facing a total of 24 years in prison for covering up the murder and violating regulations. Despite those getting sentenced, three big names were not sentenced: Saud al-Qahtani, Ahmed al-Assiri, and Mohammed al-Otaibi.
For those unfamiliar with the situation that occurred in Saudi Arabia, here's a summary. I will also link an article that had to do with the connection between the murder and WWE. Khashoggi (pronounced ha-SHO-ghee) was a Saudi reporter and journalist for the Washington Post when he gained his U.S. citizenship, but he was also a journalist in Saudi Arabia. He constantly wrote articles against Crown Prince Mohammed bin Salman and King Salman bin Abdulaziz. Since writing against the government is considered wrong in Saudi Arabia, Khashoggi immediately had a target on his back. He was last seen entering an Arabian consulate in Istanbul, a major city in the country of Turkey, on October 2nd, 2018. He was never seen exiting the consulate and was found out to be dead and dismembered later that day inside the consulate. A rift formed immediately and the Saudi government was to blame for the death due to the high backlash he received from his stories.
The reason the ruling is so controversial is because of who was sentenced and who wasn't. UN Special Rapporteur Agnes Callamard elaborated this in a statement. She was quoted in a statement saying, "Bottom line: the hit-men are guilty, sentenced to death. The masterminds not only walk free. They have barely been touched by the investigation and the trial. That is the antithesis of Justice. It is a mockery". The 'masterminds' in question are al-Qahtani, al-Assiri, and al-Otaibi. al-Qahtani and al-Assiri were both a part of the Saudi government's inner clique and were immediately let go of their jobs as royal court advisor and deputy intelligence chief respectively. All three were, at one point, held by the U.S. for questioning at some point during the investigation. Seemingly, the case is over. According to many, however, justice was not truly served in Saudi Arabia.
Link to article: https://thebobcatprowl.com/1820/news/how-the-disappearance-of-jamal-khashoggi-will-affect-the-wwe/