ABC's 'The Bachelor' Kicks Off its 24th Season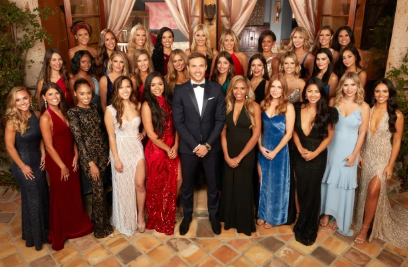 ABC's "The Bachelor" kicked off its 24th season on Monday, January 6th. The uniquely suspenseful premiere showcased the 29 hopeful women fighting for the love that the 27-year-old pilot, Peter Weber, had to offer. 
Weber made his first appearance on season 15 of "The Bachelorette", where he fell madly in love with Hannah Brown. After placing third, he was left with a broken heart and the will to find a kind woman to make a lifelong connection with. As a result of this heartbreak, he became the next Bachelor. 
From cows to cars, each contestant revealed the depth of their love for Weber through fashionable and humorous entrances. Each and every girl was given a chance to show off their evening gowns and stunning makeup in a one on one introduction to the Bachelor himself. As the girls finished introducing themselves, they headed inside to join one another to celebrate the kick-off of this season. Although positive vibes began to fill the house, tensions among all the contestants took over when Weber's previous love, Hannah Brown, reappeared to wish him luck "finding his copilot". Brown quickly left and he was ready to begin the first one on one conversations with each girl. Throughout the brief one on one interviews, claws started to come out as the jealousy towards one another began to pile up. The night ended with the first rose ceremony, sending eight girls home. Those that made it through, faced multiple days of dates and surprises to impress Weber before the next rose ceremony.
Towards the end of the episode, problems piled up once again as a result of another appearance from Brown. After securing some alone time with Weber, Brown told him,  "Yeah, Peter, I question it all the time, [Picking Jed] was comfortable. It was falling back into the same thing but, like, I broke everybody's heart and my own through this experience." Weber, still seemingly in love, presented Brown the idea of joining the house to compete for his love once again. Brown's decision to join the house or not is still unrevealed.