SWHS Students Participate in Local Memorial Day Parade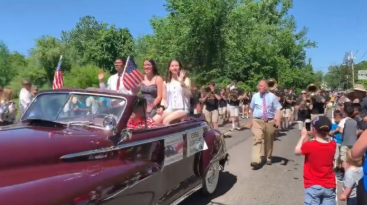 Memorial Day occurred on Monday, March 27th and so did the town of South Windsor's annual Memorial Day parade. The parade started on the corner of Nutmeg Road and South Satellite Road, and ended on Pleasant Valley Road in South Windsor, Connecticut. For the most part, the parade tends to be the same every year, as a variety of South Windsor High School students take part in it. This includes students from the SWHS band, students involved in Girl Scouts and Boy Scouts, and students who won the Patriotic Commission essay contest. Overall, with the great weather and excitement in the air, many people enjoyed the parade, including those in it.
The largest group of students in the parade included all one hundred students in the marching band. Although there is no marching band at South Windsor High School, both the Wind Ensemble and Symphonic Band came together for this performance. The group had prepared an easy rendition of 'Armed Forces Solute' and repeated it over and over again throughout the parade. With this being done, the students were very tired by the end, but it was all worth it, as many people cheered them on and clapped when they passed. Junior, Veena Bellam, said that "I just really like all of the music, along with everyone just having fun and coming together to watch us. We played great and it was all worth it when people clapped for us. However, it was really tiring" Junior, Jianna Mitchell, however, thinks otherwise about their playing, saying that "the band did well, the percussion was off in a few points. For the most parts we were together but at some sections they were off."
While many students in the band enjoyed themselves because of those around them, some just simply liked the message of the whole parade. Mitchell also mentioned that "People there were able to commemorate those who worked hard and fought for us. It's nice to be able to remember those people for their bravery, courage and all that they have done for."
Another person that I spoke to about the parade was sophomore, Erin Stephens, who won first place in the Patriotic Commission Essay Contest in the SWHS category. Stephans, along with two others who placed in the contest, sat in a car and waved to people throughout the parade. Stephens talked about how "It was a cool experience to begin with, we got to ride in a fancy car and wave to people. That was my favorite part, along with talking to Sydney [Fournier] who also placed in the contest."
All in all, many students from SWHS who were at the parade had a great time being in it, and just watching. Even though they all had different experiences overall, many can still argue that the parade was successful and caused people to have an enjoyable Memorial Day experience. From the band playing and marching, to the Essay Contest Winners sitting in a car and waving, it all contributed to a great Memorial Day Parade this year. If you missed the parade this year, you can always stick around for next year's parade!