An Overview of the 2019 Pops Concert: Another Brilliant Performance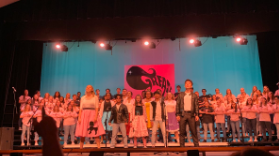 On Monday, May 20, and Tuesday, May 21, the South Windsor Music Department put on its annual performance of the Pops Concert. The concert featured Concert Choir, Understaffed, Treble Choir, Choral Spectrum, and many Spotlight Solos. The last time these groups put on a show at SWHS was back in December for the annual South Windsor Winter Concert. All the songs performed by the groups were mostly well-known pop songs that the audience could relate to. The songs ranged from Disney medleys to Grease medleys, but every group gave it their best performance both nights.
Both nights opened up with performances from Treble Choir, who repeated their tradition of singing the national anthem as the opening song, which was then followed by a Pitch Perfect medley. Both songs were major hits and featured various soloists.
On Monday, Concert Choir came onto the stage and performed two songs ("Gloria" and "A Red Red Rose") that they had previously performed on an out-of-state competition. These were the only two songs on Monday that were out of the Pops genre.
On Tuesday, Choral Spectrum performed after Treble Choir, which also featured their songs that they had previously performed on an out-of-state competition. All these songs featured excellent blend, diction, and expression, that stuck from the majority of the pop tributes.
Then followed a legendary performance from Understaffed, who sang a Disney medley featuring songs Hercules, The Lion King, The Little Mermaid, and Mulan. This act featured lots of dancing along with many solos from senior, Marshall Neilson, juniors, Jake Silverman and Braden Migneault, sophomores, Sean Banducci and Noah Pichay, and freshman, Vrishab Murali.
Both nights also featured a variety of Spotlight Solos in between acts from the main groups. On Monday, we saw 3 separate Spotlight Solos. Senior, Megan Phadael, and junior, Lindsey Osit, sang C'Mon. Freshman, Inchara Gaddi, sang Waving Through A Window. The last Solo was a dancing performance from both Olivia LaRosa and Noah Pichay, who danced to Vintage, by Niki.
On Tuesday, we heard another three separate Spotlight Solos. Senior, Grace Helmke sang Grow As We Go by J Brown. Senior, Angelica Rivera-Oliveira, sang When The Party's Over, by F O'Connell. The final Spotlight Solo was a group performance by junior, Will Harper, and seniors, Julian Palladino, Nick Palladino, and Olivia DiMaio, who performed Bruno Mars' Talking To The Moon.
While all these acts were extraordinary, the main event of the night was when Concert Choir performed a eighteen minute long Grease Medley. This act not only featured Concert Choir, but as well as a selected dance team, Choral Spectrum, and members of Treble Choir. Students were fortunate enough to be able to audition for several roles in the medley that would feature them in solos throughout the medley. Main solos in the medley were senior, Marcus Rodriguez, who had the role of playing Danny Zuko, senior, Leah LePage, who played Sandy Olsson, and junior, Joshua Lee, who sang the classic Magic Changes.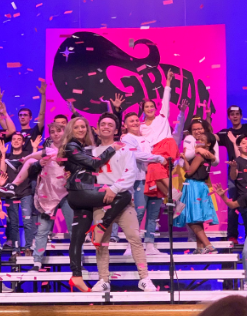 I was fortunate to talk to junior, Jake Silverman, after the show, who was apart of Understaffed and Concert Choir during the show. I asked him what his favorite part of the concert was.
"Definitely my solo during the Understaffed medley. I was so excited to perform that because I had worked hard on preparing it during solo auditions and because I always been a big fan of Disney music," said Silverman.
I also asked Silverman what he would tell people interested in joining a choral group next year. He said, "Just go for it! You won't regret it if you are interested in music. Plus, we always need new people after people graduate."