Coach Duke Earns 200th Win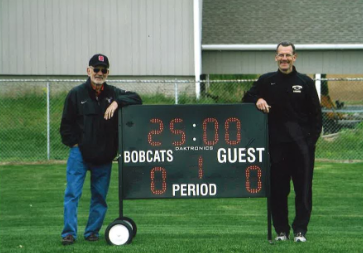 On Friday, May 3rd, the SWHS girls varsity lacrosse team won their game against Avon, giving head coach Duke his 200th varsity win. As the creator of the program, Duke was very excited to rejoin the team as head coach after his retirement for 6 years. Assistant coach, Hannah Phillips, coordinated a series of surprises for Duke in celebration of the milestone.
As the assistant coach, Phillips had heard from Duke that they had won his 198th win and that the 200th was close. She planned ahead and prepped the senior girls so they would be ready to help her execute a celebration. After the varsity team played and won their game, Phillips set her plan into action. She walked over to Duke and told him to coach the JV game while she "debriefed varsity." In reality, Phillips was working with the varsity girls to set up the surprise. As the JV game ended, the varsity girls came around the corner with shirts saying "Duke's 200th." He was shocked and the girls were eager to pose for pictures to commemorate the moment. He remarks that it was "very meaningful, and Sarah Gallagher stalled so that they could decorate the bus. They filmed as I walked onto the bus which had decorations and was really beautiful." The bus was covered with streamers, trophies, and pictures of Duke and his dad at a lacrosse game. Not only were there decorations, but they also surprised him with cupcakes!
While Duke was immensely grateful for the surprise and celebration, he laughed and noted that this is "very atypical for the team, because we always place emphasis on working hard and focusing on what you can control." Duke did not celebrate his 100th win, because he didn't keep track of wins until he won coach of the year in 2009. As coach of the year, they insisted that he give them records, and so that's when he started keeping track. Duke notes that the 200th win is not necessarily a reflection on his own work, but a result of "the honor of coaching a lot of great players and working with a lot of other great coaches. It's about the players and coaches I've worked with for 24 years."
Looking towards the rest of the season, Duke is excited to continue working with the team and pushing the girls to their max potential. He's excited to get to "work with this incredible group, quality people, including Phillips, and working with 44 lacrosse players. There's such quality across the board and they're a pleasure to work with on the field." Duke's ready to "get back to what we can control."