Why David Gettleman's "Plan" has gone awry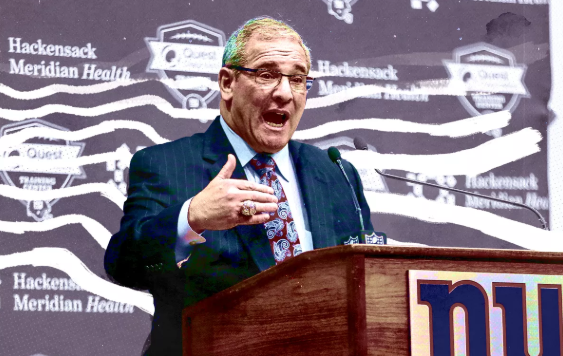 So, here we are. One week in the post-2019 draft era and New York Giants fans (like myself) have been scratching their heads since the end of an abysmal 5-11 season. This was a team that was supposed to be at least average with the addition of Saquon Barkley in last years draft, and still a team with some quality players in Odell Beckham Jr. and Landon Collins. Now entering this offseason, GM Dave Gettleman has looked like a man without a plan. He has told fans and media to trust his decisions, and that people should be optimistic for the upcoming years and that his draft selections will pay out. These are the elements of Gettleman's 'plan' and why it's all wrong.
Having Faith in QB Eli Manning
Eli Manning is 38 years old and is not getting any younger. He is in his last year of his contract entering this coming season and Gettleman has been very stern on the possibility of him starting all 16 games of the 2019 season, despite him failing to live up to the 2-time Super Bowl Champion caliber Eli Manning we saw nearly 8 years ago. Manning played just over 98% of New York's snaps at QB last year, leaving 2018's 4th round pick QB Kyle Lauletta with only 19 snaps compared to Manning's 1009. We will just have to see how many snaps are given to Manning this year and how many are given to another new quarterback that I'll get to soon.
The Whole Situation with FS Landon Collins
I'll briefly summarize this for you. The 25-year-old's rookie contract had expired and he was to be resigned by the Giants, placed under a one-year franchise tag worth $11.15 million if a deal could not be reached, or he would become an Unrestricted Free Agent (UFA). Despite having plenty of space to tag Collins, and him being an intricate part of a rebuild if he did return, Gettleman opted to let the 3-time Pro Bowler walk as a UFA. But why? I mean, Collins wanted to be part of the success after the rebuild and it's not like he's a fossil either. He's 25 and developing into a star safety…on the Washington Redskins, who signed him to a six-year deal worth $84 million. Nice going, Dave.
That Trade with the Browns
You know the one I'm talking about? No? Well, it sent WR Odell Beckham Jr. and DE Olivier Vernon to the Cleveland Browns in exchange for SS Jabrill Peppers, G Kevin Zeitler, a 1st-round pick, and a 3rd-round pick. Sorry, what now? I understand that Vernon was probably going to get cut to make cap space anyways and Beckham has some…attitude issues. But Peppers, 23, only has two interceptions in 29 games and is supposed to replace the dynamic Landon Collins at safety. Sure, Zeitler will add some O-Line help, but he isn't the whole O-Line. The picks were used on the D-Line, but it is a huge blow dealing away talent like Beckham.
Moves in Free Agency: Some Good, Some Bad
In total, four players were signed to contracts by the Giants in free agency. Those players are WR Golden Tate, DE Markus Golden, FS Antoine Bethea, and C Spencer Pulley. Out of the four, Tate and Golden will likely be the only two consistent starters on the team. Pulley will alternate the center job with Jon Halapio. Bethea is 34 and likely won't get many starting snaps. With faith towards the draft, free agency acted as an opportunity to get veteran mentors for the young players. However, a signing like Golden Tate and putting him as a possible WR1 option defeats the purpose of developing the young offense like Sterling Shepard, Saquon Barkley, and Evan Engram.
Picking QB Daniel Jones with the 6th Overall Pick with QB Dwayne Haskins in your Lap
This is that QB that I mentioned earlier. Duke QB Daniel Jones. I don't understand this at all for a few reasons. First of all, Dwayne Haskins was in the lap of the Giants when the 6th overall pick rolled around. Haskins talked very highly of the NYG franchise and said he would love to play there. Haskins seemed to be the plan. Then, all of a sudden, Gettleman said to the press that a QB "will not be part of the plan [with the 6th pick]" and they would ride with Eli. Then they picked Daniel Jones 6th overall. Excuse me for a second. MAKE UP YOUR MIND, DAVE!!!!! Even if you wanted Jones over Haskins, take him at 17th – where he will still be available – and go for a Josh Allen or an Ed Oliver or a Devin Bush. On top of that, you passed on Heisman finalist Dwayne Haskins and he fell into the lap of the Washington Redskins. You know, the team that also signed Landon Collins? Same Washington Redskins. So now, we get to face a former Giant in Landon Collins and a Giant that could've been in Dwayne Haskins twice a season. Nice going.
D is for Draft and D is for Defense
Gettleman and the Giants spent seven of their 10 draft picks on some unnecessary defensive positions, including two extra corners on top of Deandre Baker and two defensive tackles that there was no real need for. Only one O-Liner was drafted, which the Giants will need more of if they want to protect a young Daniel Jones and/or an old Eli Manning. There were plenty of tackle and guard options that the picks could've been spent on, but weren't. Grabbing DT Dexter Lawrence and Baker was smart, but it could've taken more thought considering what else was on the board.