Boy's Lacrosse lose big against Newington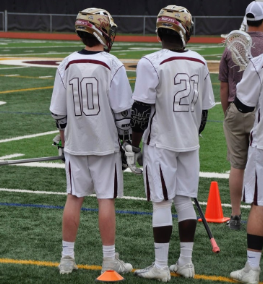 Mariana Rule
April 29, 2019
On Thursday, April 25th, the boy's lacrosse team played a game against Newington. They lost with a score of 20 to 7. There was a strong reaction shared by the entire team. They were all disappointed in the results of the game and the overall actions during the game.
During the first quarter, both Kyle West and Evan Syme scored. During this quarter, Newington also managed to score 4 points in the first quarter. There were two timeouts in the first quarter because Newington players were injured. During the second quarter, Syme and Mitchell Bagcal scored a goal each. Newington also scored 4 more goals during this quarter on the goalie, Brandon Perras. The boys of both teams had a small team meeting to discuss how the game is going, different strategies for the second half, and to increase team morale.
During the third quarter, Gabe Feher did a move he calls the "armadillo" during which he does a somersault during a face off. This is used to distract the opposing player while trying to gain possession of the ball. There were a few fights this quarter as well, one with a South Windsor player being thrown over a Newington and the other with a South Windsor player putting a Newington player in a headlock. The boys finished the third quarter with 6 points and Newington with 12 points. The last quarter of the game ended with another score from Syme after he broke his stick in two places.
Senior, Derrick Rutkowksi, shared some thought after the game, saying "We competed hard in the first half but during the game the injuries and having a lot of younger players makes it hard to stay in there and work as a team." There were many players in the younger grade levels playing during the game as well as many injuries hindering the capabilities of many players.
Seniors, Gabe Feher and Connor Smith, both shared similar opinions saying that "We stayed as a team and worked hard," as well as "We still have a lot of work ahead of us but we're looking better every day."
The team still has a few games left this season and hopes to get in a few more wins. Everyone come out and support the boys!