SW Softball Team Wins a Close Game
The South Windsor High School's varsity softball team went head-to-head against the Rockville Rams on Thursday, April 18th. The team had home field advantage, as they played the game at Ayers field at Upper Dupre. The girls played a tough game and ended up earning a hard-fought victory by a score of 2-1.
The majority of the game was very slow as the first run wasn't scored until the sixth inning by Rockville. Both teams were extremely good and for a while, the pitchers for each team struck many of the opposing teams' players out. South Windsor's pitcher, Maria Hanchuck pitched really well holding the Rams to only a single run. Even though the bases were loaded at times during the other innings.
South Windsor was not able to get those players to home plate until the sixth inning. With this in mind, Hanchuck says that "It was the first time in the season where we were down, but the second we got back into the dugout our energy was at an all-time high. We definitely knew we were coming back to take the game." After Rockville got their run, the South Windsor girls did not give up, they kept on playing their best.
This lead to the South Windsor going back to bat during the second half of the sixth inning and really going for it. It wasn't long until two players, Bridget Doherty and Lyndsay Donston, hit the ball and were on the bases waiting to get to the home base. Finally, Megan LeMay was up at the plate to bat. When she hit the ball, it went far enough so that the Doherty and Donston both had enough time to get two runs. After this happened, the team was ecstatic and was now winning by one point.
Rockville was unable to get another run in the seventh inning, meaning that the game ended early and South Windsor had won the game 2-1. This left the Bobcats undefeated as they have won all of their games since the beginning of their season.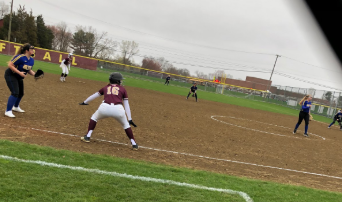 Even though this past game has been the toughest so far, the team is very happy with how they have been playing and how the games have turned out. Junior, Megan LeMay, feels this way and says that something they should keep doing the same is, "…hitting the ball because we have been very aggressive at the plate so far, which means that we have been getting more hits and runs." Additionally, Senior, Maria Hanchuck, says the team has, "…great chemistry and if we just keep supporting everyone the way we have been doing, this team is going to surprise many people." With this in mind, the team hopes to continue playing the way they have been and hopes to beat teams that they weren't able to beat last year. Not only this, but Megan LeMay says that she, "hopes to get farther in states than last year and continue to win."