Megan Powell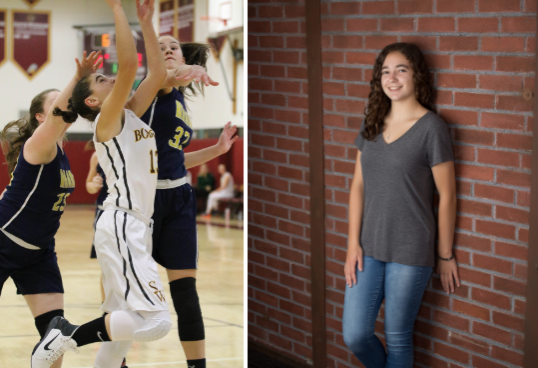 Mariana Rule
February 23, 2019
Senior, Megan Powell, has always kept a very busy schedule with her school, extracurricular activities, and sports. Powell spends her time in the fall playing field hockey and basketball through the winter months. She keeps her schedule organized "weeks in advance so that I can still make plans with my friends and family." The planning and organization that it takes in order to keep Powell's life balanced.
With the highest GPA on the basketball team, it is no surprise that Powell has taken 7 AP classes thus far in high school. Her dream is to go to college at the University of Georgia, to which she has been accepted. "It is only an hour from where I grew up in Georgia and I've always wanted to live in the south again." Although this is a dream of hers, it makes more sense financially and time-wise to instead attend the University of Hartford so that she can get her bachelor's and master's degrees in 4 years rather than 6 in accounting.
Powell's favorite part about being so busy is that "it forces me to follow a strict schedule and learn good time management." With so many responsibilities, following the schedule is very important in order to complete tasks and achieve goals in her life. This is a skill that Powell will carry on when she attends college in the fall.
In addition to an academically challenging school schedule and sports teams, Powell takes part in a church group throughout the year as well as having a membership in three honors societies and leading a committee in Model UN.
"My mom has always been my biggest supporter, she taught me all of the organizational and planning skills I know… that's how I've been so successful."