The Importance of Journalism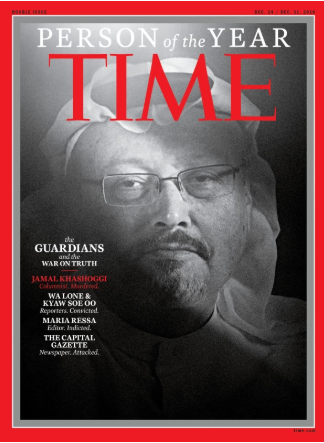 Journalism is defined by dictionary.com as the activity or profession of writing for newspapers, magazines, or news websites or preparing news to be broadcast. But it can be defined as so much more than just someone writing on a page. It's the act of informing people on the latest news, no matter how difficult it is to obtain. It's giving the soft-spoken a voice. It tells people what they want to hear without influencing their opinions, but fueling them. It makes people rethink what they are doing this world. It's taking a drop of ink, and turning it into a mass of words that can affect how people are feeling or thinking in that exact moment. Journalism isn't a occupation, it's a lifestyle.
Every year, TIME's magazine selects a "person of the year" who they believe was a strong influence over the world. This year, they did not pick a person but many people, they picked journalists. They call them the Guardians, in a fight against the "war on truth". In the proposed article, the TIME's lists a multitude of different journalists who have been involved in horrific events against journalists this year, and their evergrowing fight to spread the word. Most if not all mentioned have been put in danger since the first day of work, and their struggles continue on through 2018.
Many people when they hear "journalism" their mind wanders to news sites such as the New York Times, Washington Post, or CNN, but they might also think "safe" or  "easy." Contrary to popular belief, journalism is one of the most dangerous jobs. In 2018 alone, according to TIME Magazine, 53 journalists were killed. Of those 53 journalists, 34 were murdered, 11 from crossfire, and 8 from a dangerous assignment. However, what might be even scarier is that since 2000, there were 1423 journalists killed with both a confirmed and unconfirmed motive. At least 50% of these deaths were in the Middle East with only 12 deaths in the States, so although it is not as dangerous here, that still leaves 1411 dead. This past June, Russian journalist Arkady Babchenko faked his own death after Ukrainian Security Service paid a Ukrainian middle man to assassinate him, Babchenko was just able to figure it out faster than others. 
Jamal Khashoggi, 59, has been one of the most prominent figures in the news as a journalist who was targeted and killed. His most famous stories cover topics on the Soviet invasion of Afghanistan and the rise of Osama Bin Laden. On October 2, Khashoggi had arranged a meeting to obtain documents for divorce, making this the second meeting. He traveled to Saudi consulate on Turkish soil where he had been before been welcomed. However for the second time, that was not the case. His last sighting was his arrival to his appointment which was only supposed to take an hour or so, but Khashoggi did not come out of the appointment. For two weeks, Saudi Arabia denied knowing anything of Khashoggi's disappearance. On October 20, state television reported his murder, but they were still unclear of how it was done. On the 15th of November, it was found that Khashoggi was given a lethal injection after struggling, and then his body was dismembered and handed over to an accomplice outside of the building. Turkish president has claims to believe the murder was plotted three days before Khashoggi's arrival. Since then, video recordings have been released of members of the murder plot carrying Khashoggi's dismembered parts out of the building.
This is just one story of a journalist that has been killed just because of their reporting writings. Other journalists who were mentioned by TIME's include Maria Ressa, Capital Gazette, and Amal Habani. Ressa, 55, is a part of online news site Rappler which has been chronicling the war on drugs. The Duterte government is now refusing to accredit her and is now filing charges against the site for tax fraud that could get Ressa up to 10 years in prison. On June 28, 5 members of Capital Gazette were shot during a mass shooting for their writing. Habani was arrested, detained, and beaten with electric rods after covering economic protests in Sudan. These are only three of the faces that graced the covers of the magazine and have suffered great trauma just for doing their jobs and pursuing information.
Although there is my opinion, there are also the many other opinions of SWHS students. When asked about her opinion on the declaration, Nikitha Kikanamada doted on not the people themself but the group as a whole; "I think it's good to have multiple people because more people have more opportunity – how do you pick just one." Elizabeth Malone chimed in by saying she believed journalists were worry of the "Person of the Year" because "they are putting their safety at risk so they can get a story to report to the general public, it's for us." Junior, Jamie Miller, has a very contradicting opinion to the one that Kikanamada, Malone, and I have posed. When asked about his opinion on the TIME Person of the Year that he believes ¨that gives more credit to those who dont deserve it and not enough credit to those who do by labeling such a broad category for person of the year.¨ Even when the mention of the proposed dangers of being in this profession he responded with ¨I think it can be dangerous as you want it to be so I still believe it discredits some people."  Although there is a shared opinion and one disregarding, all are valid and appreciated, however if people were exposed to the lives of journalists, maybe some opinions would be changed.
Bottom line, journalists are very important to society. My opinion may be biased but the facts are there. Journalists cover major events in history, they deliver todays news, they write their opinions as well as the truth. The first amendment covers freedom of expression, freedom of speech, and freedom of the press. If journalism wasn't important, why would it be our first right?