CFB Bowl Games over Winter Break to watch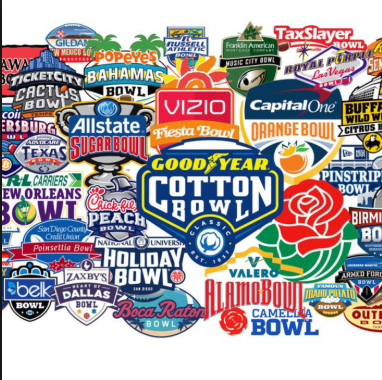 Over the long winter break that SWHS students have, some are going out traveling for holidays. Some go out with friends. Some, like myself, are stuck at home for 90% of break frying our brains and boring ourselves. Fear not, I have a solution. There are 29 college football bowl games over break starting Saturday; some are worth the watch and some aren't. Here are a few matchups to watch…and a few to avoid.
Game to Watch: 8 UCF vs 11 LSU (Fiesta Bowl in Glendale, AZ)
One of the more obvious choices, the UCF Knights look to extend their winning streak to 26 games against a tough matchup in the LSU Tigers. What will be most interesting about this game is the fact that UCF will be without their star QB, McKenzie Milton, for another game. The Tigers look to continue mowing through ranked opponents this season. They already have wins against Miami, Auburn, Georgia, and Mississippi State. If UCF wins, more talk about them being in the CFB Playoffs will likely occur. If LSU wins, they will be reinstated as a dominant team and their losses against Alabama, Texas A&M, and Florida will be righted.
Game to Avoid: Cincinnati vs VA Tech (Military Bowl in Annapolis, MD)
Don't let that Cincy record fool you. The Bearcats may be 10-2 this season but both came within the AAC, giving them a 6-2 conference record in a relatively easy conference and putting them just short of a conference championship game. Virginia Tech didn't do any better. The Hokies finished with a 6-6 record, 4-4 within the ACC. Their only impressive win was against 19 Florida State in a 21-3 thumping on the first game of the regular season. Then again, when they were ranked 13, they lost to Old Dominion by two touchdowns. Two uneventful teams lead to an uneventful matchup in Annapolis.
Game to Watch: 16 West Virginia vs 20 Syracuse (Camping World Bowl in Orlando, FL)
Both the Mountaineers and Orange have been very entertaining all year to watch. QB Will Grier, the preseason favorite to win the Heisman Trophy, has led West Virginia to an 8-3 record. All three losses, unfortunately, were within the Big 12 which put them out of the Big 12 championship. Syracuse, led by QB Eric Dungey's 2,500+ pass yards, went on to a 9-3 record. Of the three losses, two of them were to opponents in the ACC (the third being Notre Dame). This should be a good matchup between two very good teams who just missed out on a conference championship.
Game to Avoid: Miami vs Wisconsin (Pinstripe Bowl in New York, NY)
If you told me this matchup was going to happen earlier in the season, I would've put this at the top of the list. At the beginning of the season, Miami was ranked 8 and Wisconsin was ranked 4. Now, both are unranked. Miami lost their first game against 25 LSU, then won 5 in a row, then lost 4 in a row. They finished 7-5 and 3rd in their ACC division. Wisconsin also had a 7-5 record, despite having CFB's leading rusher, after alternating wins and losses in the last 7 games of the regular season, finishing 2nd in their Big 10 division behind Northwestern. Both teams had very high expectations and didn't deliver. Expect the Pinstripe Bowl to be a bland game between two uneventful teams.
Game to Watch: 1 Alabama vs 4 Oklahoma (Orange Bowl in Miami Gardens, FL)
This game just screams superstars left and right. A scary good offense, led by QB Tua Tagovailoa, that has scored an average of 47.9 points a game, second only to their opponent, has granted the Crimson Tide another dynasty season atop the SEC. The 12-1 Sooners, led by Heisman winner QB Kyler Murray, have also been dominant in their own right. They have averaged a CFB-leading 49.5 points a game and their only loss came at the Red River Rivalry against Texas, who they later beat to win the Big 12. This also may be Kyler Murray's last game playing football; he was recently the 9th overall draft pick (made by the Oakland Athletics) in the 2018 MLB Draft in June and will likely pick baseball over football. Expect this game to be an offensive shootout between two powerhouse teams.
Game to Avoid: 2 Clemson vs 3 Notre Dame (Cotton Bowl in Arlington, TX)
This won't be close. Not at all. After former Clemson QB Kelly Bryant chose to commit to Mizzou, QB Trevor Lawrence had some big shoes to step in and deliver Deliver he did, leading the 13-0  Tigers to an average of 45.4 points a game. They also have the 5th-best rusher in the league in Travis Etienne. Meanwhile, the Fighting Irish are also undefeated but in a less impressive fashion. They have only averaged 33.8 points a game. While they have averaged 17.3 points allowed a game (9th in the league), Clemson has averaged 13.7 points allowed a game (T-2nd in the league). Clemson is just better at every aspect of the game. Don't bother watching this one unless you're a fan of either team.