Season of Song 2018 Recap
Olivia LaRosa
December 7, 2018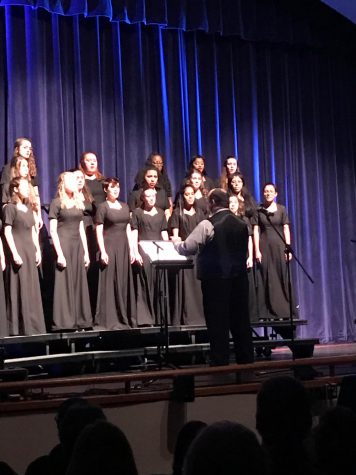 Every December, the choral programs at the high school put on a winter concert. There are four groups that perform as well as multiple soloist acts. The four groups consists of Sound Factory, Treble choir, Understaffed and Choral Spectrum. Sound Factory is a concert choir, anyone can be in it if they take the class. Treble choir is an all-girls choir that you can audition during the start of your sophomore year. Understaffed is an all-boys auditioned choir. Lastly, Choral Spectrum is an auditioned show choir group that sings and dances; there were five soloists and one duet. The song choices for this concert were mostly holiday classics but also some pop pieces. Mr. Martineau runs all these groups and picks the soloists after the audition. Martineau puts constant work into making the show the best it can be. Due to this, the concerts is always a popular event not only in the school but in town as well, so much so this year that every seat in the house was sold out.
Each group this year performed exceptional sets. The singers sang a variety of songs. Treble did more serious pieces while Understaffed was more laid back. In every group, there were songs that had soloists in them, this is a good way to allow more voices to be heard that haven't sang in the concerts before.
Choral Spectrum debuted part of their set for the 2018-19 season. They performed three songs in total. Sophomore, Amelia Savolas, says, "Concerts are so fun because you get a rush of adrenaline when the curtain opens and everyone is cheering." It is true that the adrenaline rush you get performing is the best feeling to have.
Everyone in the groups put a lot of work, spending hours in and outside of class,  so they can give the best performance possible. Soloists put in lots of effort as well. One of the soloists, senior, Leah LePage, sang the song, Mamma Mia. LePage says, "I was so excited to perform this song because it is my best friend Sarah Gallagher's favorite song."
Overall, the concert was a huge success and everyone was left feeling very happy and proud of what they accomplished.