Discovering Cross Country: The Unknown Fall Sport
Jessica Polito
October 11, 2018
When looking at the list of Fall sports at South Windsor High School, you will see many popular options such as soccer, volleyball or swimming. All of these are well-known sports and most students could explain to you the basics of the sport. If you look at the list again, you would come across cross country.
Cross country is a sport focused on long distance running. At the high school level, both the girls' and boys' teams run a 5k, a total of 3.1 miles. In college, the cross country teams could run a 10k; almost twice the difference than the high school level. Many people often confuse cross country with track, because they both involve running. Track, as the name implies, takes place on a track while cross country is more of an "off-road" sport. Oftentimes cross country races take place on a combination of trails, roads, fields, gravel, and woods. The variety in scenery is one of the aspects that many cross country runners enjoy. One of the juniors on the team, Molly Cole, agrees, "It's very stress relieving to go for a run and be in nature after being inside all day."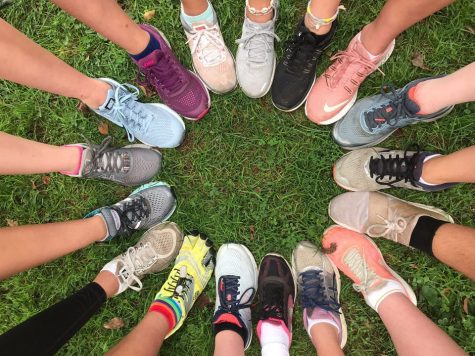 The basics of cross country are another unique aspect of the sport. A junior on the SWHS team, Sara Wills, explains that "our sport is different because it's an individual sport, but at the same time, it's also a team effort." While every runner on the team competes, the first 5 to finish per team score points. The points are awarded by the place that the girl finishes. (First place gets one point, second place gets two points etc.). The school with the lowest score wins. Since the teams are much larger than 5 teammates, the other athletes work towards improving and beating their personal records.
As long distance runners, the cross country team works to improve their endurance and strength. Strength isn't only referring to physical, but mental as well. Many assume the sport is all about how fast you can physically run. Sophomore, Muneeka Munir, clarifies that "people assume that cross country or running in general is purely a physical sport. However, you have to work really hard in the physical aspect to improve stamina, and train your brain to keep running even on tired legs." The mental strength needed to be successful is something that coach, Mr. Bowman, emphasizes daily.
As many know from experience, running alone can be difficult and frustrating. The SWHS girls' cross country team works towards creating an atmosphere where everyone feels included, comfortable, and loved. One of the things junior, Kinga Czerwonka, loves most about the team is that she gets "to be part of a team." Between "free runs" (practice time allotted to run wherever you want) to pasta parties with the boys' team. The girls' enjoy building relationships and meeting new people. They even share the best and worst parts of their days with each other. The connections made within the team are long lasting and oftentimes continue into track season and beyond. A 2017 graduate, Joy Zinn believes that "we spend a lot of time together and share a lot of experiences like running meets in the freezing rain, falling in mud, and the goofiness of free runs; that kind of friendship extends past high school."
As one of the smaller and lesser known teams at SWHS, the cross country team often feels misunderstood. As freshmen, Cora Brownbill, explains; they want people to know that "we train really, really hard and take this sport very seriously." During their last home meet of the season on Tuesday, October 2nd, they defeated both East Hartford and Enfield during a heavy downpour. The dedication that this team shows to their sport is inspiring, and their captains, Jessica Polito, Lindsey Hurd, and Marlena Klein encourage their teammates to work hard each and everyday. With their conference meet, known as the CCC, fast approaching, the team will be seen in the next few weeks running hills, sprints, and repeats.