Therapy Dogs Helping to Heal Students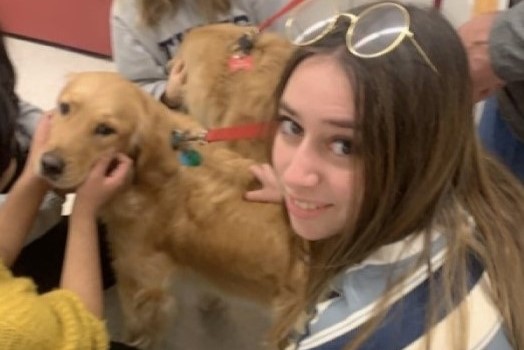 At South Windsor High School, we believe that students should feel happy and secure while getting their education, and everyone likes dogs, right? Even if you're a cat person.
Eve and Sky are two therapy dogs that come into South Windsor High School for students to pet and enjoy if they are feeling stressed. Owned by Dayton, these sweet golden retrievers who can brighten up anyone's day! 
Typically, a therapy dog is a dog who goes with their owner to volunteer in places such as schools, hospitals, and nursing home facilities. They work with people of all ages, from babies to the elderly. They help babies and toddlers by supervising them and helping them to learn to read.  Children are able to practice their reading skills while the dogs listen. Therapy dogs also help the elderly and those who live in assisted living, helping them feel less lonely.
These furry friends also help those who are in hospitals. Little kids appreciate them when they're feeling sick. They can feel safe and offer emotional support and soothe their worries. If they're feeling stressed, scared, and or in pain, they can hug them tightly and immediately feel more relaxed. 
"The therapy dogs make me very happy. When I'm having a bad week, I see them on Thursday. I beeline straight to the dogs and just sit down and play with them and pet them while occasionally talking about my problems," said high school sophomore Bella McKenna.
Therapy dogs can also give physical comfort by letting patients pet them, which is actually proven to reduce blood pressure and anxiety. Service dogs also offer assistance to achieve security and independence. In a few cases, a therapy dog will work in a foundation only, such as a psychotherapy practice.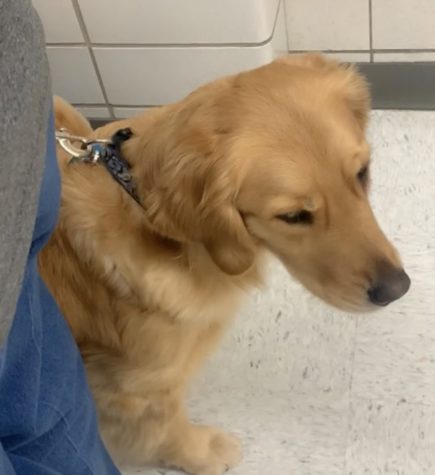 "There's scientific evidence to back up the benefits of animals in relation to mental health. I know there was one day that I was really going through it, I saw them (Sky and Eve) in the hallways and kind of collapsed on top of them. They really got me through the day," said senior Cat Martino. 
Therapy dogs may be prepared by just about anybody, but must meet set guidelines to be canine certified. 
Sky and Eve, are very loved by all and are helping those in the community deal with anxiety and stress. So, if you need a furry friend or fuzzy companion to hug, be on the lookout for this duo in the building. After all, four paws are better than two hands! 
Leave a Comment
About the Writer
Samantha Pagliaruli, Staff Writer
Junior, Samantha Pagliaruli, is a strong, aspiring journalist. She likes learning new things that happen in the celebrity and Hollywood world. From movies to TV shows to strange celebrity rumors and gossip,...