The Origins of South Windsor's Jonathan Edwards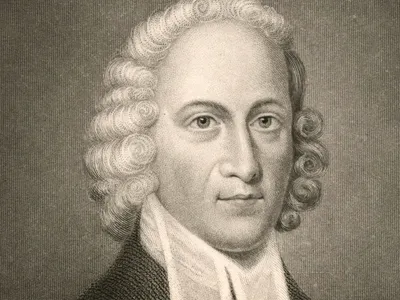 Throughout history, people have had different theories and philosophies about how the world works. People's views seem to change from generation to generation, from deep dark philosophies to happy and fulfilling ways on how to live life. From a historical perspective, Jonathan Edwards was someone who had dark thoughts during his time period.
Edwards was born on October 5th, 1703, in East Windsor, Connecticut. He was the son of a pastor of a church. Raised by religious parents, he followed in their footsteps choosing a career that dealt with religion. During the period  known as the "Great Awakening," Edwards became one of the greatest theologians of his time.
Edwards spoke about God's anger at sinners. He believed others would be saved by the studying and reading of God's word. He theorized about the negative aspects of religion and God. He agreed with other people's darker mind set, like the well-known John Locke. In tandem with Locke's philosophy, he saw God as angry and someone who punishes sinners. He also believed that God couldn't be all absolute or all universal.
Edwards words created fear. Fearing God's almighty power made people fear him. Edwards methods used fear to control those that he preached to by saying sinners had the most dire consequences. He said they would burn in hell for all of eternity for not believing or confessing their sins. This scared people into not questioning the church. Edwards gained massive amounts of followers.
Edwards created images in people's heads of hell and suffering.  For example Edwards preached "Hell is gaping for them; the flames gather and flash shout at them, and would prefer to lay hold of them and swallow them up. The fire pent up in their own hearts is struggling to break out; and they have no interest in any Mediator. There are no means within reach that can be any security to them. In short they have no refuge, nothing to take hold of. All that preserves them every moment is the sovereign, all-powerful will, the uncovenanted, unobliged forbearance, of an incensed God " (Jonathan Edwards July 8th, 1741).
It is the legacy of his powerful sermons that is memorialized in South Windsor on Main Street. A remembrance of where he was born and of a time of strict Puritan beliefs.
Leave a Comment