The State Representative of the 14th District or the Guy With the Light Show in His Front Yard?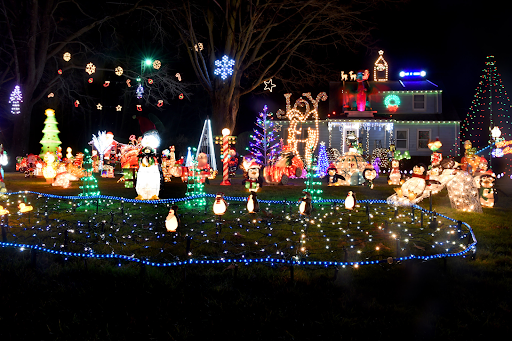 It seems as though Tom Delnicki may be recognized more for his light display than for his political accomplishments. Bright lights and colorful blow-ups are piled on top of each other in front of the house of the Connecticut State Representative of the 14th district, yet, a quick Google search presents difficulty when trying to find what he has done with that title since his election into office in 2017.
The annual winter show takes Delnicki about five weeks to set up. Cars from across town line the street and clog the road from the regular traffic flow. One can even tune into his own Christmas radio station made for this roadside distraction.
At the first thought of Delnicki's name, high school senior Emily Osit thinks about his light show. Osit, who conveniently lives across the street from Delnicki, is puzzled by the number of cars that clog her neighborhood. "How high is his electricity bill?" Osit said."There are so many lights; where does he keep them in the off-season?"
Delnicki served as Deputy Mayor of South Windsor before he was elected mayor in 2011 and was reelected again in 2015. Right after his second run, Delnicki was voted into Connecticut's General Assembly as the State Representative of the 14th district where he has consistently been elected for the past five years. This raises the question, did voters put him in because of his notoriety during the holidays in town or for his accomplishments for the residents of South Windsor? Maybe a little of both?
While it's generally hard to pass a bill in the assembly generally, it may be even harder for Delnicki. Of the 111 bills presented on his website that he's supported, only 41 were signed into law, that's only a 37% success rate for the bills proposed. According to Bill Tracker, bill HB5044 is an act that carried out Ned Lamont's suggestion on the utilization of Opioid Litigation Proceeds. Though the opioid crisis is an issue that is impacting larger populations, is it really affecting a smaller district like Delnicki's?
According to SUDORS, the state's system for reporting accidental overdoses, within the past five years, Hartford county has had over 2,000 opioid deaths. However, only 1.2% of those deaths are linked to the town of South Windsor. Therefore, the issue of opioid overdoses in South Windsor is debatably not the largest issue he should be focusing on in regard to the statistics surrounding this issue. 
Only the future will tell if the State Representative of the 14th district will back bills for the town of South Windsor that represent the needs of the community. Until then, if you're expecting to get to your destination on time make sure to steer clear of his shining show of shambles.
View Comments (1)