Who Believes in Johnny?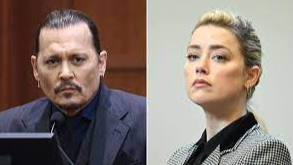 Rumors about A list star Johnny Depp's career ending are speculated on the internet, yet the reason falls into the hands of his past so-called abusive relationship with actress Amber Heard. However, not everyone believes that Depp is failing. Here's a look into his past relationships, film career and drama in the court.
Depp's career sprouted in 1984 with almost 5 minutes of screentime in the movie, Nightmare on Elm Street. Depp's acting career bloomed in 1987 with the TV show, 21 Jump Street. Where the actor played a police officer named Tom Hanson. Following 21 Jump Street ending in 1991, Depp sprung for the role of Edward Sccissorhands, which he received a Golden Globe Nomination for Best Actor in Motion Picture for comedy. This role was played beside former partner, and girlfriend while filming, Winona Ryder. 
Over fifteen years and 119 movies and shows later, Depp started filming a movie named the Rum Diary in 2009. Where he played a journalist that moved to Puerto Rico and became obsessed with a woman, played by Amber Heard. 
Amber Heard was born in 1986, she is an American Actress and activist for the Human Rights Movement. Heard is known for her roles in movies such as Aquaman, Never Back Down, Drive Angry, and more films. 
Heard and Depp began dating in 2012. Two years later, Depp proposed, and they married on Depp's private Island in 2015. The two split in 2016, after Heard filed for a divorce. 
Four days after Heard filed for an divorce, she filed for a restraining order, accusing Johnny Depp of assaulting her. She blamed the use of drugs and alcohol for being involved with the abuse.
Not until December of 2016 did this relationship catch the public's attention, when Heard wrote an op ed about the life of being a victim of domestic abuse for the Porter Magazine. In this piece she wrote, "When a woman comes forward to speak out about injustice or her suffering, instead of aid, respect and support, she will be met with hostility, skepticism and shame," she continues,"Her motives will be questioned and her truth ignored."
Her publicized truths don't stop there. In 2018 Heard came back with a piece for the Washington Post, exploiting how her job opportunities have plummeted since she came forward with allegations towards Depp. But in March 2019 Depp sued Heard for defamation, claiming her plummeting career is in her hands.
The defamation case started in April of 2022, where Depp sued Heard for 50 million dollars. Heard snapped back and countersued Depp for 100 million. The case moves on, ending in May of 2022. With the closing statements held on May 27, 2022.
There was more to Depp's love life than the events of his relationship with Heard, as Depp has been married before. Depp met Lori Allison when he was in a band as a teengager. They fell in love and when he was about twenty years old, they married.
She states in an interview with TMZ that Depp would never lay a hand on a woman, and is soft hearted. Allison is not Depp's only ex with an opinion on the case. Wyonna Ryder, from Edward ScissorHands lays her opinion on the floor.
In an interview with BBC Ryder stated, "The idea that he is an incredibly violent person is the farthest thing from the Johnny I knew and loved." Ryder issued a statement confirming she never received abuse from Johnny Depp while being in a relationship with him. 
Depp continues his acting career after stating Hollywood has boycotted him. An article from Vanity Fair has implied that Depp is still wanted overseas. Jeanne Du Barry, a film where Depp plays the role of King Louis XV, is being pitched at the Cannes Film Market in the week of May 17-25. 
From TikTok to news outlets, this case has struck many, with an article from the LA Times calling it a "hell trial", and an article from The Atlantic writing, "The Amber Heard-Johnny Depp Trial is Not a Joke". The ending is soon to come, as Depp says himself, "this never had to happen."
After a long six weeks, the trial ends. Both Depp and Heards teams share their last words. As the jury unaymouleys awards Depp 15 million dollars in damages and Heard two million dollars.
The closing statements on May 27 consisted of Depps attorney Camille Vasquez firing up the room, sticking up for Depp. According to USA Today's story on the closing statements Vasquez said, "There is an abuser in this courtroom, but it is not Mr. Depp," Vasquez said. "And there is a victim of domestic abuse in this courtroom, but it is not Ms. Heard."
Heards attorney, Ben Rottenborn, focused on expressing how women of domestic violence must feel after witnessing this trial, saying "Think about the message they are sending to Amber, and victims of domestic abuse everywhere." He then continues to say how each victim of abuse would need pictures and medical attention to have people believe them.
In the end, Depp won the defamation trial, and the jury awarded Depp 15 million dollars in damages. The jury did give Heard 2 million for a part of her counterclaim. 
Overall, the trials are over, Depp was not present in the room, but released a statement according to Entertainment saying, "the Jury gave me my life back."