Biting the Bullet of Warfare: An Overview of the 2022 Russian Invasion of Ukraine So Far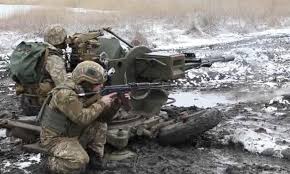 *Due to the nature of this topic, information in this article may change or be exposed false due to mass propaganda and misinformation as well as the suddenly changing and violent nature of this conflict*
"Why do you think that the good must always be frail and helpless? I do not think that is true. I think good means being able to defend oneself."
 – Vladimir Putin
Table of Contents
– Timeline of the Conflict
– Response to the Conflict
– What Caused the Conflict?
– Ukraine and Volodymyr Zelenskyy 
– Russia and Vladimir Putin
– Nuclear Attack and War Crimes
– Refugee Crisis
– How will the Conflict End?
While the world watches, Russia and Belarus along with the breakaway states of Donetsk and Luhansk are in the midst of a brutal and bloody conflict with Ukraine after a Russian led invasion on the 24 of February. 
Following weeks of intense escalation of Russian military presence at the Ukrainian border, Russia began a formal invasion of its neighbor to the West. Russian president Vladimir Putin explained to the Russian people in an early morning address that Russia could feel "safe, develop and exist" after the conflict, connecting to his claim of a constant Ukrainian threat. 
A full scale invasion of Ukraine by Russian forces is underway, as of now, with military forces pouring across the borders in an air, land, and sea assault. Shelling and missile strikes have been reported throughout the nation of Ukraine. 
Timeline of the Conflict: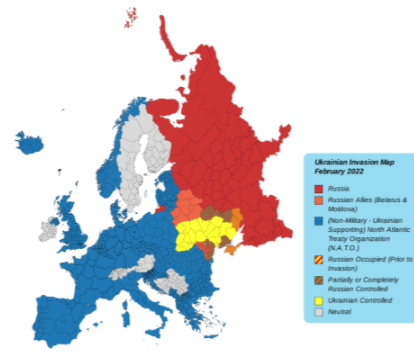 Time Zones: Moscow Standard Time (MSK), Eastern European Time (EET), and Central European Time (CET)
24 February:
6:00 MSK (10 PM EST) Russian President Vladimir Putin announces a "special military operation" in Eastern Ukraine in a pre-recorded speech. Shortly after missile strikes were reported across Ukrainian cities as well as the Ukrainian Border Service checkpoints on the Russian and Belarusian borders coming under fire. Ukrainian President Volodymyr Zelenskyy in response to the news of the invasion declared a state of marital law. 
16:00 EET (9 AM EST) Russian troops brought by helicopter captured Antonov Airport, also known as Hostomel Airport, near Kyiv but the area was partially recaptured by Ukrainian forces later in the day. 
20:00 MSK (12 PM EST) Russian forces captured the Chernobyl Nuclear Power Station, the abandoned city of Pripyat, and the surrounding Chernobyl Exclusion Zone in the North of Ukraine. 
22:00 MSK (2 PM EST) Russian naval forces captured Snake Island in the Black Sea after a naval and air attack. 
25 February:
1:24 EET (6:24 PM EST) President Zelenskyy ordered a complete mobilization of the Ukrainian Military and barred all males 18-60 from leaving the nation. 
3:27 EET (8:27 PM EST) A platoon of Russian troops and commanders surrendered to Ukrainian forces near Chernihiv, a Northern Ukrainian city. 
5:40 EET (10:40 PM EST) Russian troops and equipment began moving through the Sumy Raion on the border with Russia. 
6:46 EET (11:46 PM EST) A civilian airport in Western Ukraine is hit by a Russian missile. 
6:47 EET (11:47 PM EST) Ukrainian forces sabotage a bridge to stop a Russian armored vehicle and tank convoy in the North of Ukraine. 
8:34 EET (1:34 AM EST) Ukrainian military forces repelled an attack on the Northern Ukrainian city of Chernihiv, capturing Russian military equipment. 
8:43 EET (1:43 AM EST) Russian saboteurs destroyed a dam that had prevented water from flowing into the North Crimean Canal.
9:01 EET (2:01 AM EST) Russian soldiers surrendered to Ukrainian soldiers near Starobilsk in the Russian backed breakaway region of Luhansk.
10:30 EET (3:30 AM EST) Russian forces entered the city of Meteopl in the South of Ukraine, after harsh fighting the city surrendered and fell to Russian control. 

Later in the day, the Ukrainian Foreign Minister Dmytro Kuleba tweeted "Today's Russian attacks on a kindergarten and an orphanage are war crimes and violations of the Rome Statute. Together with the General Prosecutor's Office we are collecting this and other facts, which we will immediately send to the Hague." Ukrainian forces launched a bombardment on Millerovo Air Base in Russia, resulting in the destruction of a few Russian aircraft. 
26 February:
0:01 EET (5:01 PM EST) A Tik Tok video goes viral showing a Russian cluster munition warhead in Northeastern Ukraine, internationally illegal under the Oslo Convention for Cluster Munitions.

2:00 EET (7:00 PM EST) Heavy fighting between Ukrainian and Russian forces was reported South of Kyiv in the city of Vasylkiv. The Ukrainian government claimed that a Ukrainian fighter jet had shot down a paratrooper-carrying Russian transport plane near Vasylkiv, with American officials reporting a second Russian transport plane being shot down by a Ukrainian fighter South of Kyiv near Bila Tserkva.

2:42 EET (7:42 PM EST) Ukrainian civilians volunteers are armed with assault in preparation to defend Kyiv.

3:52 EET (8:52 PM EST) Ukrainian forces had slowed Russian advances on all fronts.

4:00 EET (9:00 PM EST) The Battle for Kyiv began, with a coordinated Russian artillery and missile barrage. 

4:44 EET (9:44 PM EST) Heavy fighting broke out throughout Kyiv, Ukraine's largest city with reports of artillery, small arms, armored vehicles, and missile strikes. 

8:29 EET (1:29 AM EST) In response to mass-disinformation, Ukrainian President Zelenskyy tweeted "There's a lot of fake news that I'm calling on the army to put down its arms and evacuate. Here's how it is: I'm here. We are not putting down any arms. We will protect our country, because our weapons are our truth. The truth is that this is our land, our country, our children, and we will protect them all. That is it. That's what I wanted to tell you. Glory to Ukraine."

9:42 EET (2:42 AM EST) Authorities in the Western Ukrainian city of Lviv told civilians to use black lights to find and cover fluorescent paint placed by Russian agents for missile strikes. 

9:48 EET (2:48 AM EST) Russian rocket strikes a residential high rise building in Kyiv. 

10:50 EET (3:50 AM EST) Kyiv announced its Subway service would be suspended, with stations turning into around-the-clock bomb shelters. 

12:04 EET (5:04 AM EST) Russian missile struck a Japanese civilian vessel docked in Odessa in Southern Ukraine, only one crew member was injured.

Later in the day, a video showing a presumed Russian armored vehicle running over a Ukrainian civilian motorist goes viral. 
27 February 
6:59 EET (11:59 AM EST) Russian missile stuck a Ukrainian nuclear waste facility, no damage to the facility was reported 

9:34 EET (2:34 PM EST) Satellites showed a multiple mile long Russian armored vehicle convoy headed towards Kyiv. 

10:06 EET (3:06 PM EST) Footage of burnt out Russian armored vehicles on the outskirts of Kyiv goes viral

10:30 EET (3:30 PM EST) Russian troops captured the city of Bucha on the outskirts of Kyiv. 

12:55 EET (5:55 PM EST) Russian forces destroy the world's largest aircraft at Antonov Airbase, in response the Ukrainian Minister of Foreign Affairs, Dmytro Kublea proclaims that the Russian might destroy their plane, "But they will never be able to destroy our dream of a strong, free, and democratic European state."

1:43 EET (6:43 PM EST) Rural Ukrainians begin constructing makeshift fortifications and weaponry to defend against Russian troops.

1:44 EET (6:44 PM EST) Ukrainian military officials release a video of a Ukrainian drone strike against a Russian surface to air missile system Northeast of Kyiv. 

3:57 EET (8:57) Ukrainian officials confirmed that the Southern Ukrainian city of Berdyansk had been captured by Russian forces.

3:59 EET (8:59 PM EST) Oil terminal in the Russian backed breakaway region of Luhansk claimed to have been hit by a Ukrainian missile.

9:07 EET (2:07 AM EST) Ukrainian military forces put out a statement saying that Russian forces were continuing to target civilian infrastructure however, "At the same time, all attempts by the Russian invaders to achieve the goal of the military operation failed."

16:02 EET (9:02 AM EST) The Ukrainian and Russian governments agree to hold peace talks at the Belarusian border.
28 February:
Throughout the day, explosions were heard throughout the cities of Ukraine with many of the reported attacks being against civilian buildings. The Russian convoy first noticed on the 27th grew to approximately 40 miles long. 

7:12 EET (12:12 AM EST) The Ukrainian Air Force claimed a successful drone strike on a Russian convoy in Southern Ukraine 

7:49 EET (12:49 AM EST) Ukrainian intelligence claimed Belarus was planning on joining the invasion with Russia, the Belarusian President responded by stating, "Our troops are not participating in any way in this operation. We're not going to justify ourselves here about our participation or non-participation in this conflict. I repeat once again. Our troops are not there but if it becomes necessary, if Belarus and Russia need them, they will be there."

8:52 EET (1:52 AM EST) Russian backed Belarus renounced its status as a non-nuclear state, which will allow Russian nuclear weaponry to be stationed in the nation.

10:55 EET (3:55 AM EST) In a statement from the United Kingdom's Ministry of Defense, the Russian military was described as being "slowed by Ukrainian forces defending Hostomel airfield, a key Russian objective for day one of the conflict,"

11:00 EET (4:04 AM EST) Russian authorities announced an "open and safe" corridor for Ukrainians fleeing Kyiv. 

16:13 EET (9:13 AM EST) The Ukrainian delegation arrived in Belarus for peace talks with the Russian government. Talks between the two nations began shortly after.

17:23 EET (10:23 AM EST) Russian shelling of Kharkiv, Ukraine's second most populous city, leads to one civilian death and sixteen wounded as well as destruction of school. 

18:48 EET (11:48 AM EST) Several large explosions were heard throughout Kyiv. 

19:00 EET (12:40 PM EST) Diplomatic talks between Ukraine and Russia ended with the advisor to President Zelenskyy, Mikhaylo Podolyak stating that "Ukrainian and Russian delegations held the first round of negotiations. Their main goal was to discuss ceasefire and the end of combat actions on the territory of Ukraine. The parties have determined the topics where certain decisions were mapped out. In order for these decisions to be implemented as roadmap, the parties are returning for consultations to their capitals. The parties discussed holding another round of negotiations where these decisions can develop,"

21:28 EET (2:28 PM EST) Russian Major General Igor Konashenkov claimed that the Russian military has hit or destroyed 1,146 Ukrainian military installations. 

21:46 EET (2:46 PM EST) Satellite images from Maxar Technologies show 40 mile Russian armored vehicle convoy 

22:01 EET (3:01 PM EST) Ukrainian soldiers who had started the rallying cry of "Russian warship, go f— yourself," before a successful Russian attack on the Ukrainian Snake Island, claimed to be captured by Russian forces but alive. 

24:14 EET (5:14 PM EST) President Zelenskyy of Ukraine calls out Russian forces for alleged war crimes in Kharkiv, stating that "Kharkiv is a peaceful city, there are peaceful residential areas, no military facilities. Dozens of eyewitness accounts prove that this is not a single false volley, but deliberate destruction of people: the Russians knew where they were shooting."

1:28 EET (6:28 PM EST) First round of Ukrainian-Russian peace talks end.

2:04 EET (7:04 PM EST) Mayor of Kharkiv claims Russian rocket attacks killed 9 and injured 37 civilians, adding that 5 of the dead were of a family with 3 children found in a burnt out car after trying to flee the city. 

2:58 EET (7:58 PM EST) Ukrainian parliament member Kira Rudik claimed Russian air assaults on Ukraine had increased following peace talks, noting that "Tonight, there was 'peaceful negotiations,' that obviously resulted in heavier air strikes after — right after the negotiation ended up. And right now, the air strikes intensified and there are more of alarms for the whole night. We anticipated this because — let me give you some tips and tricks on talking to Putin. When he says, 'I want peace,' this means, 'I'm getting my troops to kill you.' If he says, 'It's not my troops,' it means, 'It's my troops and I am gathering them.' And if he says… 'I'm retreating,' this means 'I'm regrouping and getting more troops to kill you.'"
March 1:
10:37 EET (3:37 AM EST) Government building in Kharkiv destroyed in a blast. 

12:19 EET (5:19 AM EST) Missile strikes throughout Kharkiv injured 6 including a child according to the Ukrainian State Emergency Service. 

12:51 EET (5:51 AM EST) The Ukrainian Ministry of Foreign Affairs claims a constant bombardment of Kharkiv occurred with multiple civilians injured and numerous pieces of civilian infrastructure destroyed. 

12:56 EET (5:56 AM EST) The leader of the Russian backed breakaway state of Donetsk, Denis Pushilin, announced that "Our task for today is encircle Mariupol," in reference to an assault on the Eastern Ukrainian city. 

14:37 EET (7:37 AM EST) Missile strike in Kharkiv killed 10, including an Indian national, injured 35. 

15:23 EET (8:23 AM EST) Vitali Klitschko, the mayor of Kyiv, announces "the enemy is on the outskirts of the capital,"

17:52 EET (10:52 AM EST) The TV Tower, Ukraine's tallest building, was hit by a Russian missile strike knocking out some Ukrainian television channels and killed at least 5. 

18:28 EET (11:28 AM EST) An anonymous American official told CNN that Russian forces had stopped making progress and were quickly running out of fuel and food. 

19:24 EET (12:24 PM EST) American defense officials claim in excess of 400 missile were fired by the Russian military on March 1

20:49 MSK (12:49 PM EST) Russian state media announced a second round of peace talks would take place on March 2, but the claim hasn't been confirmed by Ukrainian officials 

21:40 EET (2:40 PM EST) Residents of Kyiv prepared for a major battle with Russian troops, installing makeshift roadblocks and checkpoints. 

22:40 EET (3:40 PM EST) Multiple explosions reported on the outskirts of Kyiv. 

22:52 EET (3:52 PM EST) A Russian airstrike hit the Kyiv Babyn Yar Holocaust Memorial, a site where more than 30,000 Ukrainian-Jews had been killed by the Nazi SS during the Holocaust; Ukrainian President Zelenksyy in response tweeted "To the world: what is the point of saying 'never again' for 80 years, if the world stays silent when a bomb drops on the same site of Babyn Yar? At least 5 killed. History repeating."

23:14 EET (4:14 PM EST) A Russian airstrike in Kharkiv hit an apartment building near a civilian hospital.

00:58 EET (5:58 PM EST) A Ukrainian maternity hospital owner claimed his clinic was hit by a Russian missile in Kyiv. 

1:59 EET (6:59 PM EST) The Chief Rabbi in Ukraine claimed that Babyn Yar was struck a further three times since the initial airstrike at 22:52 EET. 

3:05 EET (8:05 PM EST) Multiple apartment complexes were destroyed by a Russian strike in the North of Ukraine.

5:15 EET (10:15 PM EST) Russian military vehicles were noticed across the Southern Ukrainian city of Kherson following days of heavy shelling.
March 2: 
9:44 EET (2:44 AM EST) Multiple Russian airstrikes were reported around Kharkiv, hitting mostly residential and civilian targets.

9:49 EET (2:49 AM EST) Russian officials claimed that their forces had taken control of the Ukrainian city of Kherson, however Ukrainian officials denied this. 

10:28 EET (3:28 AM EST) The Southern Ukrainian city of Odessa began preparing for a Russian assault on the city. 

10:50 EET (3:50 AM EST) The State Emergency Service of Ukraine claimed more explosions had occurred in the city of Kharkiv. 

11:46 EET (4:46 AM EST) Heavy shelling took place in the Southern Ukrainian city of Mariupol after Russian forces surrounded the city. 

13:29 MSK (5:29 AM EST) Attempts at peace between Russia and Ukraine continued with talks of negotiations later in the day; "This afternoon, in the late afternoon, our delegation will be in place waiting for Ukrainian negotiators," Kremlin spokesman Dmitry Peskov announced, "Our delegation will be ready to continue the conversation tonight."

13:06 EET (6:06 AM EST) Shelling continued in the Ukrainian city of Kharkiv, with local authorities reporting that strikes by Russian forces caused the collapse of the city's government building. 

14:34 EET (7:34 AM EST) The Armed Forces of Ukraine reported a clash with Russian troops on the outskirts of Kyiv, sharing a video of at least four Russians casualties.

14:50 EET (7:50 AM EST) Roman Semenukha, deputy head of the Kharkiv Regional State Administration tweeted, "The cruise missile hit the building of the City Council in Kharkiv," after a Russian missile hit a Ukrainian administrative building in Kharkiv. 

15:05 EET (8:05 AM EST) More than a hundred workers and civilians blocked road access to the Zaporizhzhia Nuclear Power Plant near the Ukrainian town of Enerhodar as Russian troops approached 

15:42 EET (8:42 AM EST) Residents of Konotop, in North Eastern Ukraine, harassed Russian delegates who had come to accept the town's surrender, forcing the delegates to leave according to Ukrainian officials. 

20:02 MSK (12:02 PM EST) Russian delegates arrived in Belarus for a continuation of peace talks with Ukraine. 

20:01 EET (1:01 PM EST) A senior American defense official told CNN that no "significant change on the ground" had occurred on March 2 in Ukraine. 

21:22 EET (2:22 PM EST) Explosions were reported in the city of Odessa and the central Ukrainian city of Uman. 

22:57 EET (3:57 PM EST) A video posted to social media showed a blown-up train station platform near Kyiv's central civilian station. 

22:16 CET (4:16 PM EST) Multiple Russian fighter jets entered Swedish airspace according to a statement by the Swedish Armed Forces; "In light of the current situation, we take the incident very seriously. It is an unprofessional and irresponsible action on the part of Russia," Sweden's Air Force Chief Carl-Johan Edström stated. 

3:03 EET (8:03 PM EST) The mayor of the Ukrainian mayor of Kherson indicated that Russian authorities had taken control of the city. 

3:24 EET (8:24 PM EST) Multiple civilian schools were hit by Russian missile strikes in the city of Kharkiv according to multiple videos published to social media. 

5:29 EET (10:29 PM EST) Ukrainian parliament member Roman Kostenko claimed that multiple Russian troops had surrendered to Ukrainian forces. 
March 3:
10:34 EET (3:34 AM EST) A Ukrainian oil depot was hit by a Russian airstrike in the Northern Ukrainian city of Chernihiv according to the State Services of Ukraine Emergencies. 

11:07 EET (4:07 AM EST) According to the United Kingdom's Ministry of Defense, the Ukrainian cities of Kharkiv, Chernihiv, and Mariupol remain in Ukrainian hands despite heavy shelling overnight. 

11:24 EET (4:24 AM EST) Russian forces had made strong advances around the Ukrainian city of Mariupol in Southeastern Ukraine according to a Russian military spokesman.

13:25 EET (6:25 AM EST) Ukrainian authorities in Mariupol announced that the city was completely surrounded by Russian troops and had faced shelling for more than 24 hours.

14:09 EET (7:09 AM EST) "Ukraine is already greeting foreign volunteers. (The) first 16,000 are already on their way to protect freedom and life for us, and for all," President Zelenskyy posted on Facebook as large droves of foreign fighters poured into Ukraine to fight the Russians.

14:12 EET (7:12 AM EST) The mayor of Mariupol posted on Telegram that "They [the Russians] are blocking the supply and repair of electricity, water and heat. They have also damaged the railways. They have destroyed bridges and smashed trains so that we can't evacuate women, children and the elderly out of Mariupol."

15:16 EET (8:16 AM EST) Ukrainian authorities in Kharkiv announced that at least 34 civilians were killed throughout the previous night's attack.

15:28 EET (8:28 AM EST) British and American military officials noted that a more than 40 mile Russian armored convoy had made "little discernible progress" in almost 3 days. 

15:50 EET (8:50 AM EST) A spokesman for the Ukrainian National Guard stated that Ukrainian forces will not give up Mariupol to the Russians. 

17:48 EET (10:48 AM EST) Ukrainian delegates began traveling towards a second round of talks with Russian delegates. 

19:19 EET (12:19 PM EST) An American official noted that more than 90% of Russia's pre-staged forces were in Ukraine as bombardments of Ukrainian cities increased. 

21:00 MSK (1:00 PM EST) The second round of talks between Ukraine and Russia ended without a resolution but created humanitarian corridors, a Ukrainian diplomat tweeted. 

20:36 EET (1:36 PM EST) Social media videos show intense Russian shelling of the Central Ukrainian town of Enerhodar near Ukraine's largest Nuclear power plant. 

21:37 EET (2:37 PM EST) An Estonian flagged vessel was hit by alleged Russian artillery fire and sunk off the coast of the Ukrainian city of Odessa. 

22:53 EET (3:53 PM EST) The mayor of the Ukrainian city of Kherson called for its residents to stop looting for food after Russian forces took control of the city on March 2.

23:23 EET (4:23 PM EST) The Ukrainian Defense Force claimed it destroyed more than 20 Russian vehicles near the Russian held Hostomel Airport.

3:00 EET (8:45 PM EST) Ukrainian officials reported that the Zaporizhzhia Nuclear Power Plant, located in central Ukraine, was on fire after heavy Russian shelling of the area. Ukrainian firefighters were unable to reach the ablaze plant due to intense fighting around the facility. 

4:42 EET (9:42 PM EST) A spokesman for the Zaporizhzhia Power Plant announced that fighting had stopped near the facility and radiation levels were normal. 

5:51 EET (10:51 PM EST) Social media videos showed a Russian attack on a civilian apartment complex in Chernihiv in Northern Ukraine. 

6:57 EET (11:57 PM EST) The Ukrainian State Emergency Services stated that the fire at Zaporizhzhia Power Plant had been extinguished. 
March 4:
10:11 EET (3:11 AM EST) Russian forces captured and have taken control of the Zaporizhzhia Nuclear Power Plant, according to Ukrainian officials. 

13:32 EET (6:32 AM EST) A Russian rocket destroyed a civilian school in the central Ukrainian city of Zhytomyr, according to President Zelenskyy. 

13:45 EET (6:45 AM EST) Ukrainian nuclear operator,  Petro Kotin, claimed the Russian controlled Zaporizhzhia Power Plant workers were working under gunpoint, noting that Russian troops "entered the territory of the nuclear power plant, took control of the personnel and management of the nuclear power plant."

13:58 EET (6:58 AM EST) A Kherson resident told CNN that "We can't go outside," the resident said. "Men are being seized and taken away," after a convoy of Russian authorities allegedly arrived in the city.

14:31 EET (7:31 AM EST) The Ukrainian Culture Ministry claimed that Russian forces were deliberately destroying Ukrainian cultural sites. 

17:01 EET (10:01 AM EST) Social media videos showed a large explosion on the outskirts of Kyiv. 

18:16 EET (11:16 AM EST) Russian forces remained more than 15 miles outside of Kyiv according to an American military official. 

18:34 EET (11:34 AM EST) An American defense official mentioned that direct attacks and downed bridges were slowing the Russian convoy's advances on Kyiv. 

19:04 MSK (11:04 AM EST) "In the city of Kharkiv, Ukrainian nationalists are preparing a provocation with the participation of Western journalists," Russian Ministry of Defense spokesperson Maj. Gen. Igor Konashenkov claimed, warning Western journalists, "According to confirmed data, on Zhylyardi Street, Kyiv District, in a private residential area, multiple launch rocket systems are placed between the houses. Nationalists have forbidden local residents, including children, from leaving their homes. Now the installations are ready for shelling units of the Russian armed forces located outside the city. The purpose of the provocation is to call back fire from Russian artillery on the residential sector of Kharkiv. All this is planned to be filmed on cameras with the subsequent transfer of filming to Western journalists."

20:37  EET (1:37 PM EST) A Russian missile struck a Ukrainian apartment block according to Viktoriya Ruban, spokesperson of the Ukrainian State Emergency Services, noting that "about 100 people may be trapped under the rubble."

23:36 EET (3:36 PM EST) Ukrainian officials report a standoff between Russian and Ukrainian forces had occurred outside of the Southern Ukrainian city of  Mykolaiv.

3:15 EET (8:15 PM EST) "Russian forces are now 20 miles, and closing, from Ukraine's second-largest nuclear facility," U.S. Ambassador to the United Nations Linda Thomas-Greenfield told the UN

3:46 MSK (7:46 PM EST) Russian President Putin told the chancellor of Germany, Olaf Scholz, that Ukraine and Russia would hold more diplomatic talks over the weekend. 

6:25 EET (10:25 PM EST) Western Intelligence officials warned that Russia could deploy more than 1,000 mercenaries into Ukrainian cities as bombardment continues. 

19:49 EST (7:49 PM EST) The United States flew multiple B-52 bombers over Eastern European NATO member states in an air support training mission. 
March 5:
10:28 MSK (2:28 AM EST) "Today, March 5, from 10 a.m. Moscow time, the Russian side declares a ceasefire regime and opens humanitarian corridors for the exit of civilians from Mariupol and Volnovakha," the Russian Ministry of Defense stated, "Humanitarian corridors and exit routes have been agreed with the Ukrainian side."

13:02 EET (6:02 AM EST) Russian forces are bombing critical Ukrainian civilian infrastructure, according to the Defense Chief of Ukraine. 

13:45 EET (6:45 AM EST) Ukrainian officials ceased evacuations of civilians from the Southern Ukrainian city of Mariupol after accusing Russia of breaching the humanitarian corridor agreement. 

15:20 EET (8:20 AM EST) Ukrainian officials claimed they downed a Russian aircraft bombing the Northern Ukrainian city of Chernhiv. 

17:14 EET (10:14 AM EST) "We don't have the army in the city. The army has been defeated. The Ukrainian army had to retreat, so there are no arms. They've retreated towards Nikolaev," the mayor of Kherson told CNN, "we don't have more weapons to resist."

18:36 EET (11:36 AM EST) In the Southern Ukrainian city of Mariupol, an 18-month-old was killed by Russian shelling.

19:12 EET (12:12 PM EST) Ukrainian officials claim Russian forces opened fire on a civilian protest in the small Northeastern Ukrainian town of Novopskov.

20:09 EET (1:09 PM EST) Russia announced that it would resume offensive military action in the humanitarian corridors, "The population of these cities is being held by nationalist formations as human shields. The nationalist battalions took advantage of the silence to regroup and strengthen their positions," Maj. Gen. Igor Konashenkov, spokesman for the Russian defense ministry claimed.

20:54 EET (1:54 PM EST) The United States's USS Harry S. Truman aircraft carrier moved into the Aegean Sea, having American fighter jets ready "In the event of further escalation," an American official announced. 

21:17 MSK (1:17 PM EST) Putin warned other nations that sanctions against Russia were "akin to declaring war".

21:59 EET (2:59 PM EST) Ukrainian officials were worried that extreme exhaustion among Chernobyl workers captured by Russian troops could cause extreme danger to the world. 

22:50 EET (3:50 PM EST) Ukrainian officials claimed that Russian forces had "almost completely destroyed" a Ukrainian city Northwest of Kyiv. 

2:30 CET (8:30 PM EST) American and Polish officials were trying to arrange for an agreement between the nations to help provide Ukraine with Polish fighter jets in exchange for Poland receiving American fighter jets.
Response to the Conflict: 
Throughout the world numerous organizations, governments, companies, and individuals have come out in protest of Russia and its leader, Vladimir Putin, for invading Ukraine. Many throughout the globe have insisted that the invasion of Ukraine was unjustified and that Russia's actions are disgusting. 
On Wednesday March 2, 2022, the United Nations voted in favor of a resolution to condemn Russia's Invasion of Ukraine. 141 of its 193 members voted in favor of the resolution, 35 nations abstained from voting, and only the nations of Russia, Belarus, Syria, Eritrea, and North Korea voted against the resolution. The United Nations resolution contained "demands that the Russian Federation immediately, completely, and unconditionally withdraw all of its military forces from the territory of Ukraine within its internationally recognized borders."
Following the initial invasion, Russian banks were cut off from the global SWIFT

messaging system, a secure financial messaging platform, in an effort led by the European Union. Cutting Russia off from SWIFT essentially isolated the nation's banks from the global financial service.
In a combined effort by the United States, United Kingdom, and European Union Russia's central bank was restricted from accessing or acquiring foreign currency. According to the Guardian, "a sizable chunk of its $640bn war chest is held in dollars, euros and sterling," meaning Russia is basically cut off from its own war funds. 
To further the frustration of the Russian economy, the lack of foreign money available has caused an unprecedented crash of the Russian Rouble, causing its value to hit a record low. The crash of the Russian Rouble threatens to create rampant inflation in Russia and dramatically lower the standard of living for most Russians. 
The governments of the United States and United Kingdom have begun blacklisting prominent Russian oligarchs with ties to Putin, but haven't taken any measures at the present time. However, the European Union has already begun to ban some Russian oligarchs from the EU and freeze their assets, doing the same to numerous businesses and organizations from Russia. 
"We stand in solidarity with and will continue to support the government and people of Ukraine in the face of the Kremlin's aggression," a spokesperson for the United States Department of State wrote in an exclusive statement to the Bobcat Prowl. "We are committed to supporting the pursuit of accountability for human rights violations and abuses or international humanitarian law violations using every tool available, including criminal prosecutions where appropriate."
More than 30 nations have banned Russian aircraft from using their airspace, isolating Russia from many nations. Multiple nations, including the United Kingdom have banned Russian ships from docking in their waters. 
Several Western companies have stopped selling products and offering services in Russia including: Apple, Nike, Adidas, Ford, Meta, General Motors, Boeing, Disney, Netflix, and many others. 
Russia's largest foreign investor, British Petroleum, announced it would release its 20% control of the Russian state owned oil company, Rosneft. Additionally, Royal Dutch Shell stated that they would end its partnerships with Russian energy firm, Gazprom. ExxonMobil declared that they would stop doing business in Russia, stating that "ExxonMobil supports the people of Ukraine as they seek to defend their freedom and determine their own future as a nation."
"We condemn in the strongest possible terms Russia's full-scale invasion of Ukraine, enabled by Belarus. We call on Russia to immediately cease its military assault, to withdraw all its forces from Ukraine and to turn back from the path of aggression it has chosen," wrote the North Atlantic Treaty Organization (NATO) in a statement on their official website. "This long-planned attack on Ukraine, an independent, peaceful and democratic country, is brutal and wholly unprovoked and unjustified. We deplore the tragic loss of life, enormous human suffering and destruction caused by Russia's actions. Peace on the European continent has been fundamentally shattered. The world will hold Russia, as well as Belarus, accountable for their actions. We call on all states to condemn this unconscionable attack unreservedly. No one should be fooled by the Russian government's barrage of lies." NATO denied a request for comment by the Bobcat Prowl but provided a link to the above statement on the conflict. 
In his State of the Union address, President Biden announced that "Together, along with our Allies, we are right now enforcing powerful economic sanctions.  We're cutting off Russia's largest banks from the international financial system; preventing Russia's Central Bank from defending the Russian rubil [sic] — ruble, making Putin's $630 billion war fund worthless.  We're choking Russia's access — (applause) — we're choking Russia's access to technology that will sap its economic strength and weaken its military for years to come. Tonight, I say to the Russian oligarchs and the corrupt leaders who've bilked billions of dollars off this violent regime: No more." 
As of March 4, 2022, 141 nations have come out in condemnation of Russia for its actions in Ukraine. Among the nations announcing sanctions against Russia was Switzerland, a nation which has been historically neutral since the Napoleonic Wars. The Swiss embassy in Washington, D.C. did not respond to a request by the Bobcat Prowl for comment. 
In addition to the countless countries and companies denouncing Russian actions, numerous organizations have as well. One of the more surprising organizations to condemn Russia's invasion was the Taliban who tweeted that "The Islamic Emirate of Afghanistan is closely monitoring the situation in Ukraine and expresses concern about [the] real possibility of civilian casualties. The Islamic Emirate calls for restraint by both parties. All sides need to desist from taking positions that could intensify violence."
"The prayers of the world are with the brave and proud people of Ukraine as they defend their country against an unprovoked and unjustified invasion by Russian military forces.  Russian President Vladimir Putin has chosen a premeditated war that has already brought catastrophic loss of life and needless human suffering.  Putin is the aggressor, and he must be held accountable.  Throughout our history, we've learned this lesson:  when dictators do not pay a price for their aggression, they cause more chaos," President Joe Biden wrote in an exclusive statement to the Bobcat Prowl, "The United States is leading the world with our allies and partners to respond in a united and decisive way.  Russia's economy is reeling because of our powerful economic sanctions, and we are providing security, economic, and humanitarian support to the Ukrainians in their fight for freedom.  With extraordinary unity and resolve, the world is clearly choosing the side of peace and security." "May God bless the people of a free and democratic Ukraine, and may God protect our troops."
Possibly the most important response to the conflict in Ukraine, countries and people throughout Europe and the world are worried about a larger conflict starting. During a virtual ceremony for a new Russian ferry, President Putin announced that "Just today we talked with the President of Belarus on this matter. Our Belarusian friends are interested in being present in the Baltic, interested in developing their own port facilities. You know that I also support it." Belarus is a landlocked nation without access to a Baltic Sea port, which created fear for the Baltic nations of Estonia, Latvia, and Lithuania. Some individuals have speculated that the invasion of Ukraine should be considered the beginning of World War III. 
What Caused this Conflict?:
On December 1, 1991, Ukraine declared independence from the Russian controlled Union of Soviet Socialist Republics (U.S.S.R.), shortly after the nation of Ukraine surrendered all of their nuclear weapons to Russia with the Budapest Memorandum. 
At a 2008 NATO summit, an intense debate over Ukrainian membership to the organization occurred with no decision being made. 
In February, 2014, Russian forces captured the Crimean Peninsula from Ukraine, causing international outrage. Following the annexation, Ukrainian authorities dammed the North Crimean Canal which created widespread droughts and crop failure throughout Crimea. 
On April 21, 2019, Volodymyr Zelenksyy was elected president of Ukraine, running on a platform of ending the Crimean conflict with Russia and rooting out corruption. 
In December, 2021, Vladimir Putin began ordering Russian troops to the Ukrainian border, demanding that Ukraine never be admitted to NATO. During this period of time, Putin wrote an article claiming that Ukrainians and Russians were "one people". 
On February 21, 2022, Russia formally recognized the Ukrainian breakaway regions of Donetsk and Luhansk and Putin began sending troops into the territories to "keep the peace". 
Russian president Vladimir Putin has made repeated claims as justification for the invasion of Ukraine including: concern over NATO expansion in Eastern Europe; ethnic genocide by the Ukrainian government against ethnic Russian, which has been unfounded; "denazification" of Ukraine, which may refer to the Azov Battalion or is otherwise untrue; Ukraine not being a legitimate state, "Ukraine has never had its own authentic statehood. There has never been a sustainable statehood in Ukraine."; and Ukrainian attempts to develop nuclear weapons, which has never been proven.
The Ukrainian and Russian embassies in Washington, D.C. did not respond to requests for comment from the Bobcat Prowl. 
Ukraine and Volodymyr Zelenskyy:
According to Encyclopedia Britannica, the Eastern European nation of Ukraine has an area of about 233,000 square miles and a population of approximately 43,880,000 people. Ukraine is bordered by Belarus to the North, Russia and the breakaway states of Luhansk and Donetsk to the East, the Black Sea and the contested Crimean Peninsula to the South, Moldova and Romania to the Southwest, and Hungary, Slovakia, and Poland to the West. 
The region of Ukraine had been ruled by Lithuania, Poland, and Russia throughout its history, however in the aftermath of the first world war, the region fell under Soviet authority. During World War 2 the Ukraine SSR fell under Nazi control, during which many atrocities including the Babyn Yar Massacre occurred. In 1986, the Chernobyl Accident in the North of Ukraine resulted in the largest nuclear meltdown in history. In 1991, Ukraine declared its independence from the Soviet Union and created the nation of Ukraine. 
Volodymyr Zelenskyy was born in Ukraine in 1978 under the Soviet Government of the Ukraine SSR. He obtained a law degree from Kyiv National Economic University, then pursued a career as a comedian/actor. In his most famous acting role, Zelenskyy played the Ukrainian president in a show titled Servant of the People. The production company which created the show began a political party with the same name and nominated Zelenskyy as its presidential candidate. With 73.2% of the vote, Zelenskyy, who ran on a populist and anti-corruption platform, was appointed as president of Ukraine, defeating the incumbent President Petro Poroshenko. 
Russia and Vladimir Putin:
According to Encyclopedia Britannica, the Eurasian nation of Russia has an area of about 6,612,000 square miles and a population of approximately 143,185,000. Russia is bordered to the North by the Arctic Ocean; the Pacific Ocean to the East; North Korea, China, Mongolia, and Kazakhstan, Azerbaijan, and Georgia to the South; Ukraine, Belarus, Latvia, Estonia, Finland, and Norway to the West; and Poland and Lithuania which border Russia's Kaliningrad exclave. 
The region of Russia formed when multiple kingdoms came together to form the Kievan Rus during the Middle Ages. Under the reign of Ivan III, the land known as Russia was unified into one state. The Russian Empire began under Peter the Great who modernized Russia in the late 17th century. After the Russian Revolution in the 1910s, Vladimir Lenin helped to establish the Soviet Union with Russia as its leader. During the period of the Soviet Union, Russia industrialized rapidly and modernized. On December 26, 1991, the Soviet Union formally dissolved, creating the Russian Federation. 
Vladimir Putin was born in Russia in 1952 under the government of the Russian SFSR. He obtained a degree in law from Leningrad State University, then worked as a KGB foreign intelligence officer. After the fall of the Soviet Union, Putin began a career in politics serving briefly as the director of the Russian Federal Security Service (FSB). In 1999, Putin became Prime Minister of Russia in a joint administration with then president Boris Yelstin. After Yelstin's resignation from office Putin became president of the Russian Federation. 
Nuclear Attack and War Crimes:
Nuclear Attack:
On March 3, 2022, Russian forces began shelling the Zaporizhzhia Nuclear Power Plant in Enerhodar, located in the South of Ukraine. An all out assault on the power plant began with artillery strikes and ended in the eventual seizure of the facility by Russian forces. 
"It just raises the level of potential catastrophe to a level that nobody wants to see," Pentagon spokesman John Kirby told CNN. 
Ukraine is no stranger to nuclear incidents, being the location of the 1986 Chernobyl Meltdown which killed 31 immediately and thousands more over time. 
Ukrainian officials reported that a building in the plant complex was on fire and Russian forces wouldn't allow firefighters access to the plant. 
"Ukraine informed IAEA that Russian forces took control of the sight of Zaporizhzhia Nuclear Power Plant; says safety system of the plant's six reactors had not been affected and there has been no release of radioactive material," The International Atomic Energy Agency tweeted, "Two people reported injured." The International Atomic Energy Agency denied a request from the Bobcat Prowl for comment but provided a link to the above tweet. 
War Crimes:
Since the beginning of the conflict, Russia has been accused of committing various war crimes by Ukrainians, foreign nations, and organizations. Russia has also been accused of using illegal weapons such as cluster munitions and thermobaric bombs, also known as vacuum bombs. 
Of particular focus by many accusing Russia of war crimes is an attack that reportedly used cluster munitions on a Ukrainian kindergarten in an Eastern Ukrainian city. "There is no possible justification for dropping cluster munitions in populated areas, let alone near a school," Agnès Callamard, the secretary general of Amnesty International told the Guardian.
The United Nations defines war crimes as "Grave breaches of the Geneva Conventions of 12 August 1949, namely, any of the following acts against persons or property protected under the provisions of the relevant Geneva Convention": Willful killing; torture or inhuman treatment, including biological experiments; willfully causing great suffering, or serious injury to body or health; extensive destruction and appropriation of property, not justified by military necessity and carried out unlawfully and wantonly; compelling a prisoner of war or other protected person to serve in the forces of a hostile Power; willfully depriving a prisoner of war or other protected person of the rights of fair and regular trial; unlawful deportation or transfer or unlawful confinement; and taking of hostages.
Of additional focus to critics of Russia is the continued destruction of civilian infrastructure including airports, power plants, or apartment buildings. Throughout Ukrainian cities, numerous attacks on civilian apartment buildings by Russian forces have been reported.
Azov Battalion:
Used as a justification by Vladimir Putin for invading Ukraine, the Azov Battalion, also known as the Azov Detachment, is a Ukrainian far-right militia established during the 2014 Russo-Ukrainian War and later incorporated into the Ukrainian National Guard. The unit has been accused of having neo-nazi sympathies and ties as well as being accused of war crimes during the 2014 conflict. 
"The unit has denied it adheres to Nazi ideology as a whole, but Nazi symbols such as the swastika and SS regalia are rife on the uniforms and bodies of Azov members,"Al Jazeera reported. 
The battalion was founded by Andriy Biletsky in 2014 to combat Russia's actions in Ukraine during the war. The unit would continue to battle Russian forces in the breakaway Donbas region throughout the war. 
Prior to founding the group, Biletsky announced that his purpose was to "lead the white races of the world in a final crusade … against Semite-led Untermenschen [inferior races]". 
The term Untermenschen commonly referred to Jews and Slavs in Nazi Germany, which Ukrainian president Zelenskyy is both. As of now, the Azov Battalion continues to fight in Ukraine against Russian forces being backed by multiple other organizations and governments. 
Refugee Crisis: 
During the largest military action in Europe since the second world war, refugees have fled Ukraine en masse since the start of the invasion. 
"In just seven days we have witnessed the exodus of one million refugees from Ukraine to neighbouring countries," the U.N. High Commissioner for Refugees Filippo Grandi wrote in a tweet. 
With only 44,000,000 people in the country, the million refugees made up approximately 2.5% of the population. The destination of most migrants has been Poland, which has welcomed the Ukrainian refugees with open arms. 
"We thought about what people probably need most now," Barbara, a Polish resident explained to the United Nations High Commissioner for Refugees, "So we bought water, food, blankets and sleeping bags. After all, it is still quite cold."
The Polish embassy in Washington, D.C. did not respond to a request for comment by the Bobcat Prowl. 
How Will the Conflict End?
As of 4 March, 2022, the war in Ukraine is still continuing with little hope of ending. Russian advances have largely stopped but could restart at any point. Peace talks between Ukraine and Russia continue but will likely take some time. 
"It is not that I want to talk with Putin. I think I have to talk with Putin," Ukrainian president Zelenskyy stated, "The world has to talk with Putin because there are no other ways to stop this war,"
Experts from the Atlantic Council, an American political think tank have offered four possible scenarios of the war's end. 
1: Miracle on the Dnieper
With Russian forces no longer gaining traction and casualties mounting, a withdrawal from Ukraine by Russian forces might occur. The addition of outrage pouring into Russia from all over the globe and a looming economic crisis for the country may further the concept of a Russian pullout. 
2: A Quagmire
With Russia's superior military and equipment, intense tactics against Kyiv and other cities might result in the toppling of the Ukrainian government and establishment of a Kremlin supported puppet authority. Despite the takeover of the government, Ukrainian armed forces and civilians could mount a destructive and bloody insurgency campaign which eventually leads to a withdrawal of Russian forces. 
3: A New Iron Curtain
Eventually collapsing under the weight of a heavy Russian invasion, Ukraine is turned into a repressed puppet state of Russia. Russia might use the victory to intrude on other European nations creating a second set of satellite states of Russia. 
4: A NATO-Russia War
The most dangerous possible scenario, possibly reached through a multitude of paths, would pit NATO forces and Russia against one another in live conflict. This scenario could essentially be World War Three with the American led NATO facing off against Russia and its allies. 
"Our weapons are our truth, and our truth lies in the fact that this is our land, this is our country, our children, and we are going to defend all of this… Glory to Ukraine!" 
– Volodymyr Zelenskyy