Meet the New Barbadian National Hero: Robyn Rihanna Fenty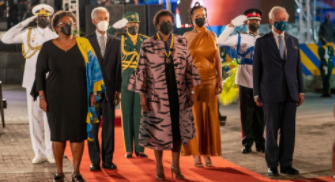 You may know her from her hit 2007 single 'Umbrella' or from her makeup and clothing line 'Fenty', but did you know that Rihanna Robyn Fenty was just named a Barbadian national hero? Yes, in the presence of Prince Charles, Barbados prime minister Mia Motley, and new president Dame Sandra Mason, Rihanna was declared a national hero, as the country is transitioning into a republic. 
Rihanna, 33, was born in Saint Micheal and raised in the capital of Barbados, Bridgeport. From humble beginnings, Rihanna grew up in a small bungalow with her two younger brothers. From an early age, music was Rihanna's escape, and she was greatly inspired by reggae artist Bob Marley. After starting to perform at just 15, the singer was later discovered by American producer Evan Rogers, which led to her 2007 hit single 'Umbrella'.
Thankfully, Rihanna remained humble, and throughout her pop career, as well as her business career, many have known the artist for 'sticking to her roots.' The singer has done so much for her home country, from humanitarian efforts to cultural appreciation in the music industry. Rihanna has successfully remained connected to her heritage, by connecting R&B and pop with her Bajan accent and Caribbean roots. Fans of Rihanna went to Twitter to share their excitement, one writing, "Rihanna's career and life trajectory has been insanely incredible. Like I just can't believe my sis is doing THIS Blessings, hard work, authenticity, and her advocating for herself…look at what Rihanna made."
Rihanna joined the 10 other national heroes of the small Caribbean island and was only the second female to ever receive the title. This title is pretty serious in fact, and according to the Barbados National Government, a National Hero gives "specific responsibility for promoting education, tourism and investment for the island." 
Barbados Prime Minister, Mia Motley shared her gratitude during the ceremony, "On behalf of a grateful nation, but an even prouder people, we therefore present to you, the designee, for national hero of Barbados, ambassador Robyn Rihanna Fenty may you continue to shine like a diamond." The small island has only gained independence from Britain 55 years ago and is now on its way to becoming a republic. Although it may seem unexpected, welcoming Robyn Rihanna Fenty as a National Hero will hopefully bring great things to Barbados.