Grammys Retrospective
On March 14th, 2021 the 63rd annual Grammy Awards were held. Big winners included Taylor Swift, Megan Thee Stallion, Dua Lipa, and to no one's surprise Beyoncé. Phenomenal performances by the likes of Haim, Bruno Mars, and Cardi B had also come together forming what is easily one of the best Grammy's in a long time. 
Performances began impressively, as aggressively cool jam sessions by the likes of Haim and soft and moody deliveries by the last grammy's all-star Billie Eilish culminated in an exciting opening for the ceremony. Regarding the awards, right off the bat, we were granted moments that encouraged nothing but joy when Lizzo handed Megan Thee Stallion her Grammy award for the best new artist. As the two's charismatic exchange spawned an effortlessly hilarious and endearing reaction from Megan when she won the award. 
However, the bar continued to rise as we entered deeper into Grammy night. After quite the theatrical performance from the Dababy, Dua Lipa emerged with her glitzy and bright retro schtick that has become the staple of her massive 2020 album "Future Nostalgia." Touching on all the hits the album had produced over the last year, including what would eventually win song of the year that night, her global smash, "Don't Start Now." A song perfectly complemented by tight choreography and flamboyant outfit reveals making up for such a high-energy moment.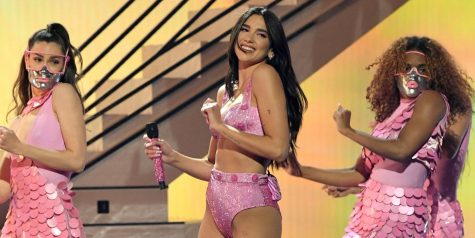 Surprisingly enough Bruno Mars made quite the impact at the 63rd grammy awards. With no actual nominations, Mars joined musician Anderson .Paak to perform their group's (titled Silk Sonic) glossy and funky lead single "Leave The Door Open." Mars had also later returned for the "in memoriam" portion of the grammy's night where the academy recognizes all the musicians whom we lost over 2020. Highlight pieces performed for the section include Silk Sonic covering Little Richard, and Grammy winner of "Best Rock Song"  that night, Brittany Howard performing Gerry Marsden's "You'll Never Walk Alone."
After a very beautiful arranged medley of 2020 Taylor Swift singer-songwriter selections from her two surprise drop albums. What emerged onto the stage next was probably my favorite string of moments from the night. Megan Thee Stallion pulled out all the stops with her flapper-themed performance of her 2020 hits. Brash and fierce choreography as she laid down heavy on her vibrant bars for songs such as "Savage" and "Body." Never did I think tap dancing by backup dancers over Megan tracks would be so much fun. Next was Cardi B doing a cute sensual number for her chart-topping song Up. But what really made me gasp was the equally hilarious and bold collaborative performance for the controversial hit WAP. Megan and Cardi throwing each other around a comically massive bed while censors fly across their verses equate to a highlight the grammy's hadn't seen in a few years and really hope acts as the bar for performers in the following years. 
Queen Beyoncé even managed to snatch some of the limelight this year. After her win for Black empowerment r&b track "Black is King" and sharing the victory for best rap song with Megan Thee Stallion's "Savage Remix" featuring Beyoncé, the pop icon held a new title. Beyoncé now stands as the singer holding the most Grammy awards to her name and I can't say she doesn't deserve it. 
Referencing back to the Taylor Swift performance from earlier. It was no surprise to see that this year's Grammys would not be one to stop Taylor Swift from ending her streak of obtaining album of the year so consistently over the past decade. With her surprise quarantine album Folklore, Swift was a force to be reckoned with for album of the year and to her credit, she delivered an album and era that I'm ok with obtaining that title. 
In total, these Grammys just ended up being so fantastic. After such a dull ceremony in 2019 with the obviously lacking variety in winners and a handful of performances that left many unsatisfied, I was prepared for an eh result. But no, I loved the 63'rd annual Grammy awards, so many winners represented, several fantastic performances, and some really good public messages that I didn't even touch on like Lil baby's brutal depiction of police brutality in his Grammy rendition of "The Bigger Picture." Don't get me wrong, the Grammys continue to be the worst for a variety of external reasons, but I cannot deny the great time I had this year.