The Most Striking Fashion Moments at The 2021 Inauguration, and What They Say About American Fashion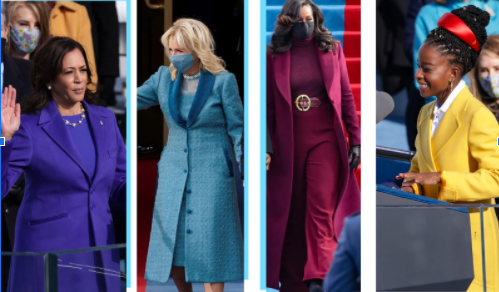 The shocking turn of events last year has definitely taught us that the future can always change. However, following the intense election of 2020 and a frightening certification process of electoral votes, one big event that was surely anticipated among many Americans this year was the swearing-in of our President-Elect Joe Biden. 
Despite the extravagance of the big inaugural ceremony adorned with music by the United States Marine Band, everything red, white, and blue, and a strong presence of American patriotism, something that definitely caught the attention of all the viewers and guests was the extraordinary attire that defined this historic event.
President-Elect Biden wore a fitted navy blue suit and wool coat, along with a periwinkle-blue tie by Ralph Lauren, completing the ensemble with a pair of black oxford shoes. Lauren is a Bronx-born son of Jewish immigrants, well known for dressing many different politicians. The prestigious getup worn by Biden seemed appropriate, with blue being recognized as a color of trustworthiness, stability, and confidence, especially for men. 
Madame Vice President Harris caught the attention of many by flaunting a bold purple coat and dress designed by Christopher John Rogers, a young Black designer native to Louisiana. Many remarked that purple is a special color to Harris as a nod to Shirley Chisholm, the first Black woman elected to Congress, and someone who Harris has credited as an inspiration for her political career. Vice President Harris also wore a lovely pearl necklace, referencing a tradition in her Alpha Kappa Alpha Sorority, the oldest all-black sorority in the US. 
Purple, a combination of Democrat blue and Republican red, is seen as the colour of bipartisanship, and it was also one of the official colors of the women's suffrage movement. Not only did Harris choose a purple ensemble for the big event, but former first lady Michelle Obama, known for her fashion diplomacy, showed up in a bright plum pantsuit and coat by Black designer Sergio Hudson. 
Alongside her President-Elect husband, the now first lady Dr. Jill Biden flaunted a turquoise tweed dress and coat designed by Colorado-born designer Alexandra O'Neill of the up and coming American brand Markarian. Biden accessorized her getup with some matching gloves and a matching mask.
Harris' stepdaughter, Ella Emhoff, wore a Batsheva dress, quietly nodding to her Jewish heritage, under a plaid Miu Miu coat with a scattering of apricot orange crystals on the shoulders. A dainty white collar was adorned on top of the coat, reminiscent of the late Ruth Bader Ginsberg. She finished off the look with chunky black boots and a thin hairband. 
22-year-old National Youth Poet Laureate and youngest inaugural poet, Amanda Gorman wore a bright canary yellow Miuccia Prada suit. Not only is yellow her favorite color, but it's a colour of hope, energy, and light, perfectly selected for the reading of her powerfully moving poem "The Hill We Climb" that left millions of Americans in awe. She complimented her suit with a red satin headband, paying attention to her beautiful hair, gold hoops, and a gold ring in the shape of a caged bird, gifted to her by Oprah Winfrey.  
The husband of Harris's niece Meena, Nikolas Ajagu, popped out in a pair of Dior Air Jordans, quickly making its way onto Twitter where thousands of users went berserk. Not only did his Dior Air Jordans get some Twitter fame, but Vermont Senator Bernie Sanders was also trending. He wore a hefty parka from a Vermont-based snowboarding brand named Burton, and a pair of repurposed sweater-wool mittens, gifted to him a couple of years ago by a teacher in Vermont, Jen Ellis. His picture caught some serious traction, so much so that he was able to create merch that quickly sold out. He donated all the proceeds to Meals on Wheels Vermont. 
Besides the jokes and laughs stemming from this big day, the fashion present at the inauguration paid a lot of homage to American designers and gave acclaim to POC designers. This "Made in America" message and celebration of the American dream was different and new to see considering that Trump and his administration typically favored European labels. As Americans begin to embrace this new presidency, we hope and anticipate to see more American designers and brands getting the recognition they deserve.