Senior Traditions for SWHS Students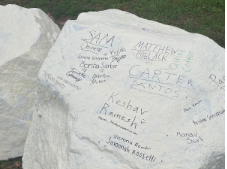 South Windsor High School seniors were able to attend the senior rock signing, one of their many traditions, this year amid COVID-19 regulations, allowing them to celebrate with their fellow seniors. 
The rock signing is an event where senior students memorialize their name on a white poster and rock, layering themselves with the class before. Students were allowed to come in a group of ten people, with their masks on and their own sharpies to do this tradition, one of the few events seniors get to do for their class. Many were happy with this, happy to be able to do one tradition with friends as their high school years come to a close. "The rock signing, which I think they handled as best as they could given the circumstances and made enough slots that a friend group could be able to go at the same time." Riley Sullivan, senior at SWHS says. This came after the class of 2021s prom was canceled due to COVID-19, so some were happy to do one tradition.
Other seniors, however, felt cheated due to the lack of senior privileges they have had. "I think we've barely had any senior traditions. The school gave lockout to all the grades when it's supposed to just be juniors and seniors. We have to pay full price for parking passes," Emma S., an SWHS senior, says. She feels as if seniors should be getting more for this year because of the unfair obstacles put against them and the schools have yet to show and provide that officially.
Either way, it is a bittersweet feeling for the seniors to be leaving their last year similar to the last class and to not have an easier year. Amelia Savola, another senior states, "I think that this situation just sucks. Obviously, most of the traditional senior things we get to do are taken away from us because of COVID. I get that the school just wants to do what's best for our safety, but I wish we got to do something to make senior year feel real. Sometimes it feels like wow. "12 years in the South Windsor school system and this is how it ends?"