Actress Melissa Benoist announces that she is pregnant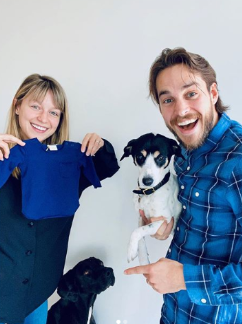 Supergirl Actress, Melissa Benoist just recently announced her pregnancy on Wednesday, March 4, after posting a picture with her husband, Chris Wood on Instagram. 
Benoist, age 31, recently married Chris Wood in November of 2019. Benoist's Instagram post was captioned, "a non-canine child is coming to our family very soon!!! @christophrwood has always been an old dad by nature but now he's going to be a real one!" Benoist and Wood met on the set of Supergirl in 2016, while Wood's character, Mon-El, was appeared for the 100th episode. 
The Show Supergirl is now into season 5, and according to TV Line, "It's not yet clear if Benoist's pregnancy will affect production on Supergirl's current fifth season, which will conclude in the spring, or the previously announced Season 6." The gender of the baby is still unknown. 
Benoist was originally married to her Glee Co-star, Blake Jenner, sealing the deal in 2013, and in 2017, they divorced. Soon after, Benoist got together with Wood and decided to have their first kid. The episodes of Supergirl talk about a costumed superhero who is Superman's cousin and also one of the last surviving Kryptonians. The series is in the third series set of Arrowverse. Benoist plays the character Kara Danvers, and though the series began on CBS, it has moved to CW, where the other DC Comic inspired shows are also located. 
As of right now, Supergirl season 6 has been granted early renewals to 13 of its already-running series for 2020-2021. Many fans of the show are trying to get Benoist's soon-to-be-born child onto the show already, but according to Showbiz, "never has there been an attempt (at least on TV) to have a superhero have a child mostly for the obvious reasons of normalizing them too much to take away the superhero fantasy." The show may use CGI, or computer-generated imagery, to hide Benoist's baby bump during the remaining filming days of the fifth season. The show is considering having the main character, Kara, become pregnant, but the real question lies on whether or not the stunts would work, for, "Kara would have to be grounded for a while until finally giving birth," says Showbiz. 
If Benoist decides to bring her baby onto the set, fans will go crazy, but it is highly doubtful that this will be the case.