Senior, Van Anh's Tran, and Her High School Accomplishments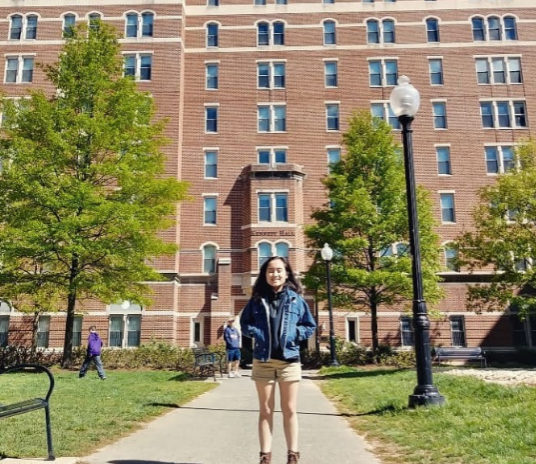 Senior, Van Anh Tran has been able to showcase many of her talents which include leadership through the Interact club and the Writing Center throughout her high school career. She has many accomplishments to be proud of, and as a result, many of her peers look up to her because of her brightness, and academically learning ability. 
She works at the Writing Center as a tutor for students that come in need of help for any writing assignments. Tran says, "not that many people know about it, but it's still in its premature days, there is a lot of room for growth. It's pretty fun but on the days where not a lot of people come, you are able to get your homework done." Working at the writing center has helped her critically analyze her own writing and as a result, she is not as shy about sharing her own work with others. Seeing that Tran is a tutor at the Writing Center, people trust her with their own work and seek her for advice on their own writing to better their own. 
On top of working at the Writing Center, Tran's main activity is volunteering for Interact, in which she is the President of the club. The Club aims at volunteering and connecting local event coordinators to our school, going to farmers markets, babysitting at the PTO, and hosting big events throughout town and our own school. Tran likes being President of the Interact Club because it gives her a role for leadership, and not only is learning skills about organization and event planning, but is able to be in charge of her peers. Tran says that it is nice being President because she has been a part of Interact for her four years at the High School and from freshman to senior year, has been able to work her way up to the top. 
Tran is also a very rigorous student, taking many high level classes and many AP's. One of Tran's classmates, Armina Sarin, says that Van Anh is "quiet, but goofy. She makes a lot of jokes and I like hearing about her day because it is very entertaining." Sarin, who shares three classes with Tran, Physics, Calculus, and Study Hall emphasizes that "it is easy to ask her questions because it is so easy to talk to her." Being the only two girls in their physics class, Sarin likes having another student there to talk to and bounce ideas off of. 
After four years of being at the High School, Tran has been able to get into the routine of managing time between her extracurriculars and homework. One thing she has learned from herself and tells others is, "don't be too hard on yourself and find ways to enjoy your younger years. Don't put pressure on yourself and try to find things that you like to do that helps relax yourself." One of her biggest accomplishments would probably be making it this far as a high school and not being burnt out. She is proud of getting an award at the Model U.N. Conference with her close friends because it showed the amount of work she put throughout the years, and Model U.N. gave her a chance to formulate her own opinions while coming to resolutions with one another. 
When Tran goes to college, she hopes to go into either chemistry or the medical field. She believes that her personality is very tenacious, and compares herself to a parasite that will never give up until something takes her out. Seeing this, Tran is able to excel at what she does because she doesn't give up on tasks and always aims to do her best. Seeing this, it is always noticeable to see someone asking Tran questions about homework, Interact, or help at the Writing Center because she is trustworthy and has achieved greatness with her academics, for she is one of the top students of her graduating class!