Rapper Juice WRLD Dead at 21 Following Seizure at Chicago Midway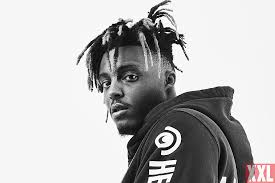 The music world lost a major piece on early Sunday morning, when upcoming rapper Juice WRLD, whose real name is Jarad Higgins, passed away after suffering a "medical emergency" in Chicago Midway International Airport. The Chicago-born rapper had just landed early Sunday morning from California, when he suffered convulsions and went into cardiac arrest, while local police and federal agents were searching his luggage for guns and drugs at a private hangar at Midway Airport Local. Law enforcement officials say he was bleeding from the mouth and quickly transported to a local hospital, where he was reported dead shortly after he arrived. He had just turned 21 last Monday. 
The rising star rose to fame in 2018 after his song "Lucid Dreams" reached No. 2 on the Billboard Hot 100 chart. He made his official debut with his album Goodbye & Good Riddance in December of 2018. He then followed with another album Death Race for Love, which earned him his first No. 1 record on the Billboard 200 albums chart when it was released in March this year. He was in a collaborative album called, WRLD ON DRUGS, which featured both Juice WRLD and very popular rapper Future. From early on, it looked as though Juice WRLD would be revelant for a long time in the rap game. 
Chicago police said they were notified while the jet was still en route to Midway that federal agents suspected it was carrying "weapons and narcotics." Plainclothes tactical and gang crime officers joined the agents at the hangar as the jet landed with 10 passengers — including Higgins and his girlfriend — along with two pilots and a flight attendant, police said.
Authorities said that when the plane landed at the Atlantic Aviation hangar at Midway airport, it was carrying approximately 70 pounds of marijuana in 41 vacuum-sealed bags; six bottles of liquid prescription codeine cough syrup; and three firearms, including two 9 mm pistols and a .40-caliber pistol, along with metal-piercing bullets and a high-capacity ammunition magazine.
It was during this 1 a.m. search and questioning when Juice WRLD began convulsing, said Anthony Guglielmi, a Chicago police spokesman. Federal agents quickly administered Narcan, a drug used to revive people thought to be overdosing on opioids, to Mr. Higgins, and the Chicago Fire Department was on the scene in under seven minutes, Guglielmi said. But the rapper, who was taken to a hospital, was pronounced dead just after 3 a.m.
As news broke about the Juice WRLD's death, many well-known artists around the world paid their respects to the upcoming artist through their social media accounts. Rap stars such as Drake, Chance the Rapper, Travis Scott and Lil Nas X all paid tributes to the fallen artist as soon as his death was made public. 
"I would like to see all the younger talent live longer and I hate waking up hearing another story filled with blessings was cut short," said Drake in a tribute. 
"He knows our hearts. I really wish we had more talks like that one night in LA. Dude. This is ridiculous," added Chance the Rapper in another post. "Millions of people, not just in Chicago but around the world are hurting because of this and don't know what to make of it. I'm sorry. Love you and God bless your soul. #legend."
Other artists from various genres of music also paid their respects, as Juice WRLD showed early on that he could combine multiple different tastes in his music. 
"I can't believe it… you were such a sweet soul," singer Ellie Goulding, who collaborated with Juice, 21, this year on the song "Hate Me," wrote on Twitter in the first of several posts.
"I'll always remember meeting you and your family on the video set and thinking how close you were. You had so much further to go, you were just getting started. You'll be missed Juice," she wrote. 
"Sweet boy. The fastest brain in the game. Your creativity, endless. Immortal. Rest in power. I can't even explain the sadness," wrote singer Halsey, who collaborated with the young artist in the song "Without Me" in early January this year. 
At this point, it is still uncertain as to why Juice WRLD suddenly collapsed in the airport, but new information and developments have pointed to a few possible explanations. Juice WRLD's ex-girlfriend, Alexia Smith, 21, claims that when they were together he would take up to three Percocet pills a day, and mix the pills with cough syrup (a.k.a. Lean), according to The Daily Mail. She also said that his battle with chronic depression had a serious impact on their relationship, as well as his drug use. At times, she said, things even turned violent. 
"Seven days away from me, he ended up in the hospital," she told the outlet tearfully. "When he was away from me for seven days, he ended up hospitalized from collapsing on stage. One year away from me, and he's dead."
"I want to be that person that leads people out of the place they're at," he told Billboard in March. "And in the process, maybe I'll find the key to get out of the place that I'm at. The low places I may wander into or get trapped in."