Opening Weekend for Frozen 2 is a Success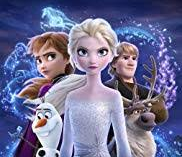 Six years ago, the first Frozen came out and now the sequel has come out and had a huge success opening weekend. In the U.S Frozen got a massive $127 million opening weekend, $27 million more than Disney expected. This is the highest-grossing film debut for Walt Disney Animation Studios, who have been around since 1937. This film opening was up more than the originals 93 million. Frozen 2 set the record for the biggest global opening for an animated film ever which made 350 million worldwide. 
This is Disney's 5th blockbuster film this year and they already beat the record for the highest-grossing year for a studio company ever. Frozen had big success over the first weekend and they hope to keep the ratings going during Thanksgiving weekend. Along with the rating success, Frozen 2 has also received 76% rotten tomatoes.
The movie was mainly about Elsa, Anna, Kristoff, Olaf, and Sven going on a journey beyond Arendelle to discover Elsa's powers and save their kingdom after a mysterious voice calls out to Elsa. Sandie Angulo Chen from Common Sense Media said that the movie "This charming musical sequel again elevates sisterhood, empowerment, love, and acceptance".
Frozen 2 has had great success to start and Disney hopes to keep those ratings high for Thanksgiving weekend.