2019 Senior Class Officers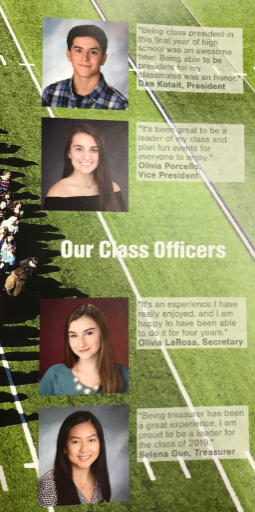 As the end of the year is nearing, the 2019 senior class officers have been very busy preparing all of the beloved senior activities. From organizing senior outing to sorting materials for graduation, the officers have been active in many of the things seniors enjoy about the end of their high school career. For the class of 2019, Dan Kotait is the president, Olivia Porcello is the vice president, Olivia LaRosa is the secretary, and Selena Guo is the treasurer.
Though most students are unaware of the behind the scenes steps that must be taken for each school event, the officers have been hard at work to ensure every detail is correct. The officers helped sort the bus cards for senior outing, as well as looked over the menu and venue for senior reception, sorted and organized senior reception tables, and sorted graduation tickets and announcements. The officers also help to hand out all of the end of year materials. Throughout the year, they have been dedicated to maintaining the senior showcase board by the cafeteria so that their peers were aware of deadlines and events.
Over the course of four years, Porcello, LaRosa, and Guo have served the class of 2019. LaRosa commented that she's "sad because I did it for all four years and I feel like it taught me a lot and it was fun to help plan fundraisers for our grade." Aside from fundraisers, Porcello enjoyed "planning prom. Picking out the venue, favors, DJ and photographer was a ton of work but in the end it was cool to see the hard work end with a fun night!"
While being a class officer allows for students to plan activities, it also provides the students an opportunity to be active in a leadership role. Porcello decided to run for the position because of that experience it would bring her. "I liked being a leader," she remarked, "my siblings were officers so I already knew about the opportunities and tasks at hand."
As the year is almost over, the officers are preparing to graduate. Guo commented, "I feel proud to be a leader for the class of 2019. I enjoyed helping with graduation because the day we graduate is one of the most important days of our lives." As a final message before graduating, the president of the class of 2019, Dan Kotait, wants his peers to know that he's "proud to have represented them in the final year of high school because I have always been proud to be a part of his graduating class."