Gatlinburg's New "Skybridge" Will Break Records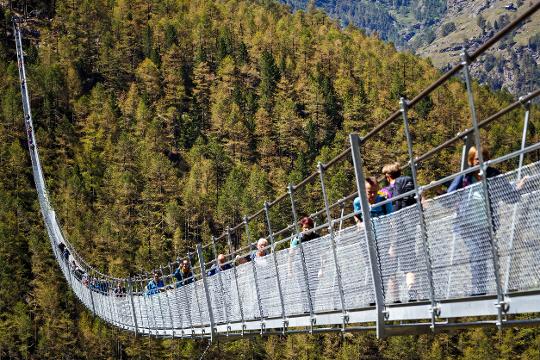 Officials from Gatlinburg Skylift Park took to Facebook to announce the grand opening of their new Skybridge; Said to be the longest pedestrian suspension bridge to ever be built in North America. On May 17th the bridge will be ready and open to the public to stroll across at 1pm.
The bridge does justice for its name by literally stretching across the sky, as it measures to 680 ft in length while being up to 140 ft above the deep valleys. While most of the span is made of wood, in the middle there are glass-floor panels that guests can use to take a peek at the valleys below them as they are half way across.
In 2016, Skylift Park took a deep blow from the destruction of wildfires. The landmark temporarily shut down until the spring of 2017 when they reopened for public enjoyment. Yet, a lot of the visitors believed the park wasn't the same and were disappointed with the outcome. With the debut of the Skybridge, many locals and people in general are excited to give the park another chance. The Skybridge isn't the only change the park as made, they even upgraded to a three seat chairlift and guests can have access to all the attractions for the price of only one. In relation to this, Nathan Curameng (Senior) stated, "I think it's cool that they are still trying to go above and beyond after the fires affected them, that must have been really hard for them to get past. Good for them."