Prom Planning Essentials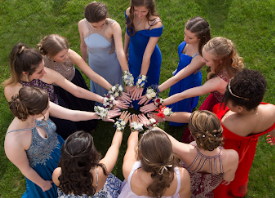 Hang on for a minute...we're trying to find some more stories you might like.
Dear Livi,
Prom is in May but I feel stressed and like I might be behind. What do I need to do for prom to prepare and have the best night possible? I need all the help I can get!
Sincerely,
Anonymous
Dear Anonymous,
Prom can be stressful for anyone but you do not want it to be that way. Prom should be fun, easy and memorable night. My timeline and tips should hopefully help make that happen.
First off, ladies you should start looking into purchasing a dress now. You want to make sure to give yourself enough time to find the perfect dress, get alterations if need be and if ordering online you want to make sure it comes in on time. There are many stores and websites that offer thousands of dresses. You WILL find the right one for you. Make sure the dress you choose is not super revealing because there are some prom dress codes. Once you get a dress, go and pick out some shoes. I personally recommend heels but whatever shoe is your style you should go with. Picking out jewelry is also a fun thing to do once you get a dress. Cute earrings or a simple necklace can go a long way when it comes to putting together the perfect prom look. Relatively soon, you should be calling and making appointments to get your makeup, hair and nails done unless you plan on doing it yourself. I recommend getting your nails done the night before and your hair and makeup done earlier in the morning so you don't feel a time crunch. It will relieve stress if you do practice runs of your hair and makeup before the actual day. I highly recommend that.
Boys, you want to go get your tux after your date gets her dress. You want to wait till they pick their dress out so you can coordinate with them. If you are not going with anyone than go and order your tux at any point. They don't tend to be super expensive if you rent them. There are 3-4 options that Men's Warehouse offers for prom that are great. They allow you to pick different colors and styles that fit anyone.
The next thing you want to do starting pretty soon is get a prom group together. You want to go with your friends. Do not try to go with a group of people you do not know because you wont have as much fun as you possibly could. Get a group together and start a group chat for taking pictures and going together. Pick a location to take pictures at. Lots of people go to parks or just go in someone's backyard. You also want to get a group to go to the actual event with. Plan whether you want to rent a limo or party bus. You will want to make reservations and get the bus ahead of time because during prom season buses run out fast. Also think about what you want to do following prom. Make smart decisions when making those plans and please be safe! Your prom group can be as large as you want but keep in mind there is only 10 people per table at prom.
When purchasing your tickets which tend to run around $85-90(if similar to last year), you will pick who you want at your table. Tables are assigned the day of prom so you cannot sit wherever you would like. When purchasing your ticket you will also pick out your meal. There tends to be 2-3 options. One will be vegetarian and one a meat option for sure.
About 2-4 weeks before prom you are going to want to order the corsage and boutonnière. There are a variety of ones to pick from. You can go to any grocery store or the florist on Sullivan Ave and get very pretty ones. Ladies you would normally get your date a boutonnière that matches the corsage your date has purchased you. Overall, prom is super fun and one of the best high school memories you will have. Enjoy every second of it and don't stress yourself out!! Everything will fall into place and you will have a wonderful evening.