2019 Golden Globes: Fiji Water Girl
Mariana Rule
January 11, 2019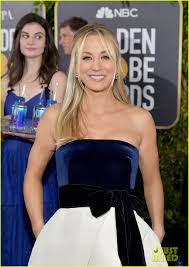 The 2019 Golden Globes ceremony was, yet again, highly attended and anticipated. The significance and honor of winning a Golden Globe is sought after by many but achieved by few. The  winners may have been the real stars of the show, but the Fiji water girl accidentally stole some of the limelight.
The Fiji water girl, Kelleth Cuberth, is an up and coming model. She was hired to represent Fiji water at the 2019 Golden Globes. Cuberth was busy on the red carpet all night handing out water bottles to the celebrities to promote the brand. The model was instantly trending on social media due to her accidental photobombing of many celebrities photos.
Many of the celebrities are displeased and showing their disapproval for the photobombs. A notable celebrity that shared their opinion was Jamie Lee Curtis. Curtis posted on Instagram after the ceremony to share out her opinion on the viral images. Curtis explained in her caption that she had purposely moved away from the products because she did not want to promote any brands at the Golden Globes. Curtis was very unhappy with Cuberth getting in the back of her pictures, saying that "The sponsors of events need to get permission from people when they get them to take their picture next to products."
Cuberth was amused by the entire event. She has not commented on the responses of celebrities, but has an overall positive attitude about it. The model said that she didn't realize that she was in almost every photo. She knew there was a chance of being in many photos so she knew to keep a "good face" so that the pictures were still pleasant. One of Cuberth's favorite photobombs of the night was the picture with Jim Carrey. She shared that "I love his work. I grew up watching his movies and thought it was a funny thing to find myself in the background of."
The Golden Globes were a success overall. There was not one single show or movie that beat all the others out for awards. The variety of winners and those celebrated was very great.
The winners are as follows:
Best Motion Picture – Drama: Bohemian Rhapsody
Best Motion Picture – Musical or comedy: Green Book
Best Performance by an Actress in a Motion Picture – Drama: Glenn Close
Best Performance by an Actor in a Motion Picture – Drama: Rami Malek
Best Performance by an Actress in a Motion Picture – Musical or Comedy: Olivia Colman
Best Performance by an Actor in a Motion Picture – Musical or Comedy: Christian Bale
Best Performance by an Actress in a Supporting Role in any Motion Picture: Regina King
Best Performance by an Actor in a Supporting Role in any Motion Picture: Mahershala Ali
Best Director – Motion Picture: Alfonso Cuarón
Best Screenplay – Motion Picture: Nick Vallelonga, Brian Currie, Peter Farrelly
Best Motion Picture – Animated: Spider-man: Into The Spiderverse
Best Motion Picture – Foreign Language: Roma
Best Original Score – Motion Picture: Justin Hurwitz
Best Original Song – Motion Picture: Shallow, A Star Is Born
Best Television Series – Drama: The Americans
Best Television Series – Musical or Comedy: The Kominsky Method
Best Television Limited Series or Motion Picture Made for Television: Assassination of Gianni Versace: The American Crime Story
Best Performance by an Actress in a Limited Series or a Motion Picture Made for Television: Patricia Arquette
Best Performance by an Actor in a Limited Series or a Motion Picture Made for Television: Darren Criss
Best Performance by an Actress In A Television Series – Drama: Sandra Oh
Best Performance by an Actor In A Television Series – Drama: Richard Madden
Best Performance by an Actress in a Television Series – Musical or Comedy: Rachel Brosnahan
Best Performance by an Actor in a Television Series – Musical or Comedy: Michael Douglas
Best Performance by an Actress in a Supporting Role in a Series, Limited Series or Motion Picture Made for Television: Patricia Clarkson
Best Performance by an Actor in a Supporting Role in a Series, Limited Series or Motion Picture Made for Television: Ben Whishaw